Hello everyone,
We hope that your holiday season has been a wonderful one with lot of friends and family to celebrate with you.
Ours was spent here, in this little piece of paradise called Staniel Cay. On Christmas Eve, I organized a cruiser beach party where we shared snacks and drinks while the tropical sun set over the anchorage. By the glimmering firelight, a cruiser sang "O Holy Night" and many people wiped away a tear when she finished. Then, everyone sang some carols with the children and I read my "Week Before Christmas" poem. When the fire died down, everyone departed to their boats with calls of "Merry Christmas" echoing around the anchorage. A lovely night.
On Christmas Day, a front was expected to pass by. Pre-frontal activity arrived mid morning with lots of rain and a shifting wind. Our anchor alarm went off and we were dragging toward another boat! Quickly, we dashed on deck, hauled anchor and re-set it to the new wind direction. Were we soaked! But, it was fresh water. A neighbouring vessel ( the one we were dragging towards! ) had invited us to dinner. When we arrived, they had the air conditioning on! It was lovely as it was a very hot and humid afternoon. After a lovely dinner and enjoying pumpkin pie in the cockpit, we saw nearby lightning. Time to cut the visit short.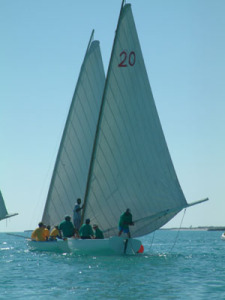 The next few days were spent snorkeling, beach walking and visiting. On the 30th, a fund-raising auction was held at the Yacht Club. I donated some of my red pepper jelly ( raised $25! ) and we bought a bag of books and a box of canned goods. Some beautiful items had been donated but prices went sky high. On the 31st, the 'C' class Bahamian boats raced and cruisers were given a chance to be aboard. Murray raced on Smashy. The name was maybe prophetic as he did hit another vessel and the buoy during the race! I will try to attach a photo. Fireworks happened at midnight but we were long asleep by then.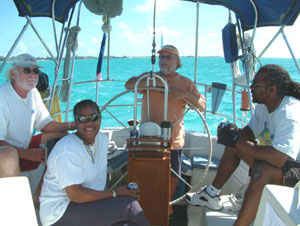 On Monday, the 2nd, the Cruisers Regatta was held. The wind blew at about 15 kn and everyone had a wonderful time. Most of our crew had jumped ship to race their own boats so we took aboard a local couple. Dave Moxie owns a 'C' class boat and is captain of a 90+ power yacht. Ellen is a dentist in Nassau. Again, I will try to attach a photo of the crew. Don Wilson, from Next Exit, was very glad to see more crew arrive as he and I were the only ones left. The race was a trianglar course, approx 2 miles per side, that we went around twice. It was a neck and neck race but we managed to get second place. Last night, the awards ceremony was held and every participant received a basket of goodies from the organizers. Then they brought out the food! Roast pork and chicken, with peas & rice, macaroni and coleslaw. I could not finish it all. There was dancing in the street but we were exhausted from all of the activities this week and headed back to the boat before 7 pm.
Today, we are hidden in Oz again with two cold fronts expected before the next weekend. Oh well, time to relax and read some of those books that I bought.
So, that is what is happening in our life. How's things up north? Write when you get a chance, as we love to get your mail aboard. All of the best for 2006!
Hugs, Heather & Murray
PS This was too large to send out the usual way, so we delayed it until we had access to the wireless connection at the Staniel Cay Yacht Club. Buy a beer and use the wireless – good deal!