It was long past the time to replace our old lifelines as the vinyl coating was cracked and rusty in many places. All of the stainless fittings would also need replacing as the swaged ends showed the effects of corrosion. A professional rigger is needed to install the swaged ends and it would be expensive.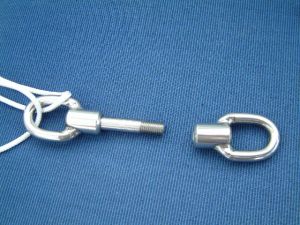 But, this summer, Murray had started to investigate replacing the wire with line. The line needed to be a low stretch type with a high breaking strength. By far the biggest advantage of the line option was the ability to do the job yourself. The racers appreciate the reduction in weight of the line lifelines but, on a cruising boat, this wasn't our priority.
Johnson Marine makes the fittings necessary to use a spliced line, as a lifeline, and these fittings are carried by West Marine. It still isn't a cheap process as we had three gates needing Gate Hooks and Gate Eye-to-Eye fittings.
For the line, we chose Sta-Set X both for breaking strength and cost. The upper line is 5/16 and has a breaking strength of 4,400 lbs while the lowers are 1/4 with a breaking strength of 2,700.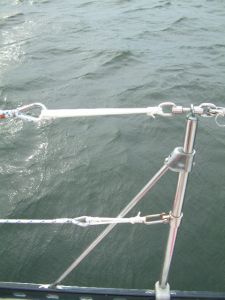 Due to the difficulty splicing this line, Murray used his ClampTite tool ( available at ClampTite.com ) to clamp the loops around the stainless thimbles. Each thimble is double clamped with stainless wire. Alternately, the loop could be whipped and sewn. All screw-together connections were assembled with blue Loctite.
The line is tightened with lashings of sufficient number and strength to equal the strength of the low stretch line. Further, the lashings allow the lifelines to be tightened if they stretch over time.
Approximate cost of this job – under $300. But, now the lifelines can easily be replaced for just the cost of the line ( less than $100 ) as the fittings should for last many years. At this time, manufacturers recommendations suggest replacing the line every four years due to uv damage.
For more photos of this project, see our photo gallery.