The last message found me preparing to jump ship, heading to Ontario to greet a new grandbaby. Dave Johnson, a cruising friend from our first trip in '97, joined Murray for the interim. He flew into Staniel Cay the afternoon before I was scheduled to leave. Once the guys saw me off, they moved the boat into Oz in preparation for yet another cold front.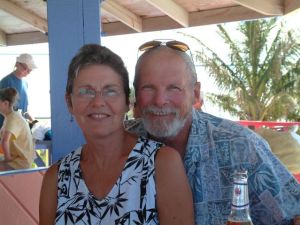 While they were sheltering there, a passing vessel ran hard aground on the sandbar. The two guys jumped into the dinghy and roared to the rescue and soon had the boat floating free again. Dinner invitations were given as re-payment for the favour. A few days later, the intrepid duo stopped to commiserate with a couple who had lost their dinghy on a passage in Exuma Sound. Losing a dinghy is similar to losing your car, although worse as you have to swim ashore before you can walk anywhere. Murray offered to ferry Rob and Mary, s/v Sojourn, anywhere that they needed to go. They reciprocated with another invitation to dinner. How lucky they are!
A few days later, Sojourn accompanied W4 northward to Norman's Cay and on to Nassau. There they intended to contact insurance companies and order a new engine and dinghy.
Murray and Dave were relaxing in the cockpit when a sailboat seemed to anchor too close. Radio discussions followed and the skipper revealed that he was engine-less, having experienced a serious problem in the Turks and Caicos. Captain Steve was securely anchored and needed the help of the guys to maneuver into a slip in the morning, using dinghy power. Thanking them with beers at a local bar the next day, the guys heard the crew of a powerboat mention that they had found a dinghy in Exuma Sound and recovered it. Could it be possible? It WAS Sojourn's lost dinghy! Once contact was made and a reward agreed upon, they were reunited. The orders for new engine and dinghy were canceled and life looked much rosier.
I arrived back shortly after the reunion and had the pleasure of meeting this lovely couple. Now that business was concluded, they were interested in getting out of Nassau before the next cold front. And so were we. A quick trip to the grocery and we were ready to depart the next morning.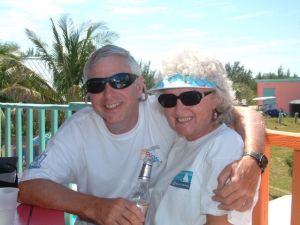 The wind allowed us to sail most of the way to Royal Island. During the passage, a radio call was received from Bob & Jane s/v Flextime. They also were underway to Royal Island and plans were made for sundowners. In the morning, the guys headed off for a quick snorkel and each came back with a lobster for the pot. The weather guru had said that Sunday could be a good day to sail north to Abaco, so we prepared the boats for the trip. Flextime needed fuel, so all six of us jumped aboard for the visit to Spanish Wells in the afternoon. We had hoped to spend more time in this area but when the wind blows, the sailor goes.
Shortly after 0600, the anchors were hauled and a small fleet set sail for Little Harbour, Abaco. The seas were large and confused with huge rollers from the east to add to the mess. No fishing today. But the cut was passable and we all were securely anchored by Lynyard Cay before 1600 that day. A strong cold front was to blow in on Monday afternoon so we moved out in the morning and headed north. The anchors were dropped near Boat Harbour. This area gave us good protection from the west and north but did nothing to save us from the waves right now from the south. Down below, we hung on, read and watched videos while the wind howled with speeds near 35 knots. A tornado was reported to have touched down in Freeport, Grand Bahamas, doing a lot of damage to the cranes at the port and killing three men. Much too close to us as it is only 60 miles away.
Today, the wind was down and we dinghied ashore for a walkabout and lunch. Tomorrow will be an early start again, as we head to Marsh Harbour to do laundry and re-stock. Then, a few days visiting these lovely islands before we head above Whale Passage and start looking for a weather window to cross to the US. Yes, you will likely see our smiling faces near the first of May.
Hugs to all and that is life aboard.
Heather & Murray