Where has the time gone? It is almost September already. The heat this year has made the pool at the rec. centre an integral part of each day. Aquasize starts at 10 AM and, by the time that is done at 11 and we drift around and chat for a bit, then it is lunch time and the day is half over. Most afternoons, Murray is tinkering in the garage while I work inside with computers etc. Sometimes I even do housework.
From having only one working computer in June, we now have three fully functioning. For the Mac, I found a guy on eBay who could repair the logic or mother board. And, for a reasonable sum, that was accomplished. Then it took me quite a while to restore everything from the external drive and then to figure out why the computer wasn't accessing the external drive to back-up frequently as it is supposed to do. But, now the Apple is back to its old self, if perhaps a touch slower than before. When I can type faster than it can put the letters down, there may still be an issue or two.
The old Acer with the failing screen had finally died to the point that only one inch of screen was working and that only when Murray twisted the screen to cause it to make contact inside. A neighbour gave us a seventeen inch monitor and we delivered the whole shebang to Steve. With a lot of knowhow and some luck, he managed to access the correct keystrokes to send the screen output to the external monitor. Murray now uses that computer for games mostly. Especially when I watch something on TV that he isn't interested in watching.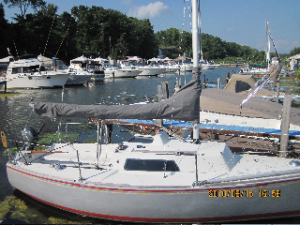 On the sewing front, we completed the seats for George's airplane and that plane should be flying soon. The seats were a challenge and more an engineering job that a sewing one. Then we tackled a new sailcover for Fandango. The old one was too small, worn out and, worst of all, orange. So, with a nice medium grey Sunbrella and some dimensions from the old cover, we laid it all out, cut and then sewed it together. It looks very nice and we are quite proud of the finished effect.
For the August long weekend, we made the trek to Ottawa to visit with Jeremy and Cynthia, Matthew and Samantha. Their new house is lovely and Murray and Jeremy worked away on some of the small gliches while Cynthia and I explored the local garage sales with the kids in tow. Matthew accompanied us to a movie one afternoon and we all enjoyed " Despicable Me". All too soon we were back on the highway headed home. But they may have to put up with us once again before we head down south.
On the home front, Murray helped George with the wheat harvest and seems to have been signed on for the beans as well. Oh well, it keeps him busy and adds to the cruising kitty. He still has a few jobs weekly for neighbours and he does enjoy that. In September, we have again organized a street party with a barbeque and dance on the street, in front of our house. I got permission from the town to close the street and they even will deliver the barricades for us. Everyone brings salads etc and we set up card tables to make it easier for those who don't like to eat from a plate on their lap. At a local auction, Murray picked up a super sound system and he wires that up, installs it in the trailer on the front lawn , hooks up our XM radio and we blast the music until everyone goes home. Last year it was a great success and we are hoping for bigger and better this year.
I have been working on the committee for the Holler, our Hickory Hills newsletter. It has been fun and keeps me hopping to find someone to write a story for the "Meet the Neighbours" column each month. But, right now, I have enough set up that will keep the column going until December at least. As a fill-in on the library committee, I was asked to work the library for 3 Wednesday's this summer and that got me reading more and exchanging my books more frequently as well. Soon we will cull the stock, as the shelves are bulging. Working that day is a good deal as we get first choice of any discards and those books help fill my spare time in the winter. The discards are given to a service club which sells them in their annual garage sale to raise money for local charities.
Continue to enjoy this wonderful weather and all of the fresh produce available at the farmers markets. Take care and we will see you soon.
Hugs
Heather & Murray
PS Murray completed the sign for our house from a piece of driftwood brought back from the Bahamas. The sign says " Rand Aground". And we are.