It is almost mid-Nov and usually by now, you would have received a letter telling of our arrival at the marina in Green Cove. But everything has changed, actually many times, in the last few weeks.

For a while our departure was delayed due to a MRI booking for me just after the scheduled departure. But, with persistence, I managed to get an earlier spot due to a cancellation. The pictures showed a herniated lumbar disc but, at this time, we have opted for a "wait and see" approach to the problem.
Near the end of September, Heather's mom was admitted to hospital in Orillia with confusion and other signs of a stroke. Eventually she was transferred to the Rehab floor to re-gain as much function as possible. But, it soon became obvious that she would be unable to return to her current living situation. We had already done the research on nursing homes in our area and had narrowed the list down to the suggested five possibles. But, the waiting lists for nursing home spots are often at least a year long!
For a while, it appeared that Mom would have to live with us until a nursing home bed opened up. Heather spent hours on the phone and we visited five retirement homes nearby. Eventually we settled on one, packed all of her belongings in Orillia, moved them to Woodstock and organized her room. Then we returned to Orillia and brought Mom down to her new home in the Caressant Care Retirement Home. She seems to be enjoying it, especially the dog Lucy, who is just across the hall.
Heather has spent untold hours organizing phone, cable TV, medications, oxygen etc etc for Mom. But, things are almost all in place so that we may yet go south this winter. Right now we are planning on departing Dec 4th, arriving at the boat by Dec 6th and working like mad to get launched before Christmas.
It will be cold in Florida for working but it is freezing here! There was even snow on the ground the other day. It has been a long time since we have been in snow and the sandals tend to leak a trifle. Luckily, our sister-in-law, Barb, took pity on us and loaned us warmer coats for the next few weeks. Otherwise we would be scouring the thrift shops for warmer clothing. The only pair of gloves Heather owns are in the pocket of her rain gear. Guess where? On board, of course! And Murray may actually have to dig out some socks (he does have a couple of pair!).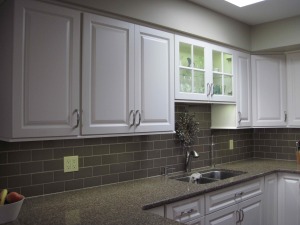 On a happy note, the kitchen is finished and looks beautiful! We had a kitchen warming a few weeks ago ( any excuse for a party! ) and about twenty friends gathered to Ohh and Awww, drink wine and eat conch. It was a great evening and a wonderful way to celebrate the new kitchen. Now Murray is drawing up plans for a master bath renovation. There must always be a project in the planning stage, I guess. It is my job to find the funds to pay for these improvements, so I better start saving my pennies.
That is all the news from Tillsonburg. Write when you can and try to keep warm.
Heather & Murray
frozen to the ground