Hello everyone,
Perhaps you have heard on the news that Prince Harry is visiting the Bahamas. Yesterday, he stopped by Spanish Wells, Eleuthera, for short visit. He arrived in a Royal Bahamas Defense Force boat and it tied up at the pier while Prince Harry did a "meet & greet" with some important local officials. There was a small group of schoolchildren, a band and the rest of the onlookers to cheer them on.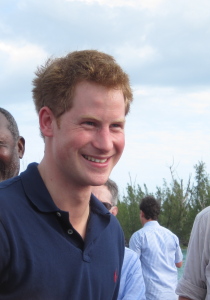 We had taken our dinghy in about an hour before and were some of the earliest people awaiting his arrival. Four American friends joined us for the experience. Another group of dignitaries were put right in front of us, blocking our view. But, Prince Harry came to shake hands with them and we were very close to him. In fact, I even got to shake his hand! I just thrust mine out and he grasped it and shook. My closest encounter with a royal!
Not much time elapsed after Prince Harry's departure before the next cold front hit with a vengeance. The wind is howling through the rigging now but we are safe and secure here on a mooring ball. This wind is supposed to last the entire week with a break perhaps over the weekend. That may be our opportunity to jump across to the US, right from here. We will monitor the situation and not take undue risks, so don't worry about us.
In the meantime, I continue to get book orders and have only 10 remaining in inventory. We need to re-order in the US.
Murray went diving with friends recently and came back with two lobster and two conch. Some nice dinners aboard. While he was in the water, I did our laundry at an outdoor washer/dryer. It is just a lean-to, with the two machines, no place to sit and no shade. It cost $16 but I did get two loads done in about 3 hrs. Gosh, I miss the convenience of home!
Take care and we will stay in touch.
Heather & Murray