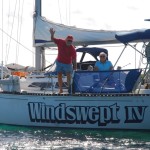 Yes, believe it or not, we picked the perfect time to sail from Spanish Wells over to the Berry Islands and on. Bob & Liz, on S/V Arapesh, followed us out between Egg and Little Egg just as the sun was breaking over the land behind us. The wind was on our beam and we quickly set sail and shut down the engine. All we heard from then on was the blessed quiet with only the swish of the waves passing beneath our hull. It was a wonderful sail of about 42 miles and we arrived at Devils/Hoffman Cays in lots of time to get securely anchored in the daylight.
Murray jumped into Bob & Liz's dinghy in the morning to show them the trails to the blue hole and to the ruins on Hoffman Cay. By 1030, we were ready to depart once agin. This time the winds were quite light but the plan was to only go 18 miles up to Great Stirrup Cay area to anchor again. It was a lovely day with the sun shining and the boat sliding along. Arapesh complains that they cannot keep up to us, even though they have a newer boat with a longer water line. W4 was just performing beautifully!
As we approach the anchorage, we take note that the wind is not changing direction as expected. The waves are rolling along that island and maybe right into our anchorage. We enter the area to confirm and it is being affected by ugly waves from the northeast. It is not the spot for tonight but there are a couple more possibilities nearby.
We go back out into the deep water and pass by the cruise ship anchored off of Great Stirrup. They stop here and ferry their passengers ashore to enjoy the beautiful beach and some Bahamian cuisine. Between Great and Little Stirrup is another anchorage – Slaughter Harbour. But the waves are rolling right into there as well. Darn! Do we really have to go all of that extra distance around to Great Harbour Cay?
Murray steers us around the west end of Little Stirrup Cay and towards the shallow sand bar. Here we are out of the waves and safe for the night. Although there is no note on the chart that this is an anchorage, we certainly found it to be perfect for this night. The sun set over the empty sea behind us giving us an awesome view of a green flash.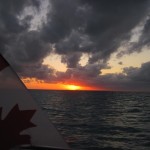 The next day found us continuing to sail at hull speed, making the journey of 55 miles to Lucaya in great time. Arapesh disappeared behind us until they turned on their engine to assist. Once in Lucaya, we anchored for the night not far from the entrance as we planned to move on again in the morning. During dinner, we heard a voice " Captain, captain! You have to move! " By now, it is full dark and the police boat wants all three boats to haul anchor and follow him to somewhere else. There was no arguing with them as they threatened to arrest the owner of one of the boats who was simply asking questions. They took us over by Grand Bahama Yacht Club and told us to anchor there. But, we had been chased from this spot before and expressed our doubts. "This is fine because I am putting you here!" OK, safely anchored again, we finished dinner and went off to bed. It was just barely daylight, when we again heard a voice. " Hello, you have to move!" The dock master from the nearby marina is chasing us off. We explained that the police placed us here. So, he left and came back in about an hour with two police aboard his boat. "You cannot anchor here! There are sewer lines all over this area" Well, any thinking person knows that to be untrue as they would never put sewer lines under the water. What happens if you have a break? How do you fix that? It was just an excuse.
The bottom line was that Lucaya was no longer the friendly port that we had enjoyed for so many years. Unless you wish to pay for a dock, perhaps visiting Lucaya should no longer be any part of our plans. Between the extra charges for checking in and being chased from an anchorage twice, once of those times in the dark, we don't feel welcome here any longer.
But, luckily, we were moving on once again. This time to a dock at Ocean Reef resort. So, on Wed March 2nd, we tied up to the dock here for approx one month. Friends, Bob & Jane Argue formerly from S/V Flextime, are staying here in a timeshare for two weeks and helped us tie up and escorted us on a dinghy adventure right away.
Life is very different on a dock in a resort. There are scheduled activities and lots of boaters to chat with. They have buses to take you to the beach or shopping plus there are dance lessons, scuba lessons, aqua-fit classes, a gym and lots of washers and dryers. Yeah! Clean clothes without using a bucket!
For about a week previously to our arrival here, there had been some concern about a health issue for me. A local doctor came to the boat and sent me for further testing. It took a few days but the bottom line was nothing of real concern was noted. For a time, a CVA was suspected but the MRI ruled that out. So, right now we are doing some exercises to improve my balance and stability again. By the time we are ready to head out again, I should be back to normal. If I was ever normal.
Family arrive on Saturday, staying in the resort, and the fun will begin in earnest!
A different form of life aboard!
Hugs
Heather & Murray