On March 3rd, our friend, Linda, met up with us at the Newport City Park. It was great to see her and the wine was quickly opened and poured out. But, the bugs ( no seeums ) were eating Murray! So, the decision was made to move on the next day after some exploring of the local area and indulging in some seafood. In Panacea, we stopped for lunch at Mad Anthony's Seafood and it was excellent!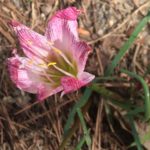 As Linda was driving back to Ontario soon, we headed further north towards the Florida/Georgia border and found a campsite at Three Rivers State Park. It was a very nice campground right on the water with a fishing pier that Murray put to use. The weather apps showed a storm system blowing in and Linda cut her visit short in order to make it back to London ahead of the rain and snow.
We enjoyed another couple of days here and  then headed east, finding a site at Ocean Pond, a campground in the Osceola National Forest. What a lovely place! We found a site right on the water and enjoyed our stay very much. In fact, we stayed for a week. The cost – $12 per night without electricity. But, the nights were still very cold and with no power, our cabin morning temperatures hovered around 47F. Robin & Jane Hewson, in their new Airstream trailer, joined us here for a few days. They found it difficult living without electricity as their unit did not have a generator to recharge the house batteries. After a few days, they moved on to a campground with power.
We had ordered a part and had it delivered to Reynolds Yacht Center in Green Cove Springs. It had been at the marina for several days but the tracking showed it still in transit! Time to pack up and head to Green Cove. It was a lovely drive through the National Forest on country roads and we made good time. We got the part and headed back only to find our campsite gone. After locating a camp host, we were put in an empty camp host site for the night. The great thing was that it came with electricity! We enjoyed the heat very much.
Now that we had the part, we headed back towards the west and stopped at Eastbank Corps of Engineers ( COE ) Park. They had a site available for 4 nights with electric for $24 per night. Not too bad. Again, a very nice park right on Lake Seminole. Murray installed the new convertor/charger and discovered that the one he took out was made by the same company. After contacting the company, we found out that the one we replaced was actually a higher amperage charger than the new one that we purchased. It just didn't seem to put out enough power. Murray investigated further and found that you needed to push a button on the face of the unit to make it charge more efficiently. If we had found some instructions with the unit, it might have saved us a few dollars and several ruined batteries! The new part that we ordered came with two remote controls ( by error ) and that remote will also work with the old convertor/charger. So, we have a good working unit to sell.
After a few days at Eastbank, we move on to another COE park, River Junction. This was a great spot! Nicely treed, water views, quieter and cheaper at $20 per night! What more could you ask for? Robin & Jane caught up with us again here and we started to make plans to turn towards home.
By March 22nd, we were on the road, heading north. We had opted to travel through Alabama and Tennessee. I located another COE park, Gunter Hill, just east of Montgomery and not far off of the highway. This was an older park and the sites were quite small in our section. But the washrooms and showers were good.
Not far from the park was a pecan shop with all sorts of tempting treats that beckoned to us. Mmmm! The candied pecans were wonderful and didn't last very long. We couldn't dally too long though and hit the road again. This night, we stopped at a private campground, Texas T, near Lynnville TN.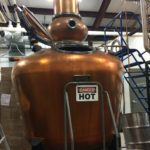 As planned, we were here for two nights as we couldn't get a site in Nashville until Sunday. But, we made good use of our time here. Both Jane and I managed to get laundry done. Murray and I toured a bourbon distillery, Tenn South, and had a bourbon tasting. Rather Murray had a double bourbon tasting, as I just had a sip and passed them on to him!
The town of Lynnville kept our interest for many hours with railway exhibits, a diner with fried pies ( delicious! ) and some lovely shops.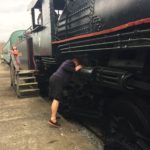 We lef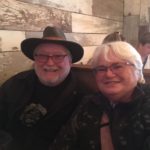 t early the next morning and arrived at our campground, Two Rivers Camp, in Nashville in the late morning. Once we were set up in our sites, we grabbed the shuttle and headed downtown. What an enjoyable afternoon! Live music at most bars, a beer here and there and wandering in and out of the shops. We had a nice dinner at B.B.Kings Blues Bar and very much enjoyed the music there.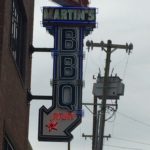 The next day, we had tickets for the tour bus that picked us up at 9 am. We travelled the whole route and enjoyed the sights. Lunch time found us at Martin's BBQ for another great meal. The line to get in was over a block long by the time we left! Our timing was just right.
We spent the next few hours at the Country Music Hall of Fame. It was very crowded with busloads of teens and we didn't enjoy it as much as we might have. We tried to find some more live music but most didn't start until the evening. By now, I was tired out and we opted to return to the campground by shuttle. We did a few jobs on the camper and prepared for an early departure the next morning.
I had contacted some old friends, Joe and Patti Janas, who lived sort of near our route, in La Porte, IN . We hadn't seen them for about 35 years and had a great visit. From their home, we made the crossing into Canada at Detroit/Windsor and were home in Tillsonburg by 5 pm.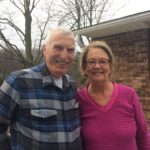 About 5000 miles travelled with gas mileage of 17.9 mpg. I haven't added up all of the camping costs but we did live quite frugally.
A different adventure for these sailors but we saw new places, met some friendly people and avoided the snow.