Written Dec 24th in Berry Islands
Hello everyone,
I did promise more details and now, as the wind is howling outside, I have time to write.

On the 18th Dec, we had arranged to meet Terry & Jeanne Persily at a nearby marina. They are friends from the Astabula Yacht Club in Ohio who spend the winter in Delray Beach, Together, we found a couple of marine stores where Murray got the last things on his parts list. The marina had a super outdoor thatched-roof restaurant where we had lunch and reminisced of races, parties and friends we shared. By 3 pm, we headed back to the boat to make final preparations for our crossing.
A dinghy approached the boat while we were working. They introduced themselves as Bob & Jane on Flextime, a Beneteau 40 from Toronto, and inquired when and where we were crossing. Murray answered " to Lucaya and in about 20 minutes". They scrambled to get ready and were hard on our heels going out of the West Palm Beach Inlet.
The inlet was ugly and I made a stupid mistake. I had opened the front hatch a bit while working below as it was very warm. And, I forgot about it. The wind was opposing the outgoing current of the inlet and created huge, ugly, crashing waves. The boat slammed up and down and the waves tumbled over our decks. Too late, I screamed " the hatch is open!". Murray ducked below and dogged it down. But the bedding, pillows and mats on the floor were all wet. With salt water. But, no time to worry about that now. We pour on the power and eventually get free of those ugly waves. But, it isn't a whole lot better out in the ocean. And the breeze is bringing us the worst smell you can imagine. We have been using the holding tank because we are in the US but I have not put chemical in it. And it stinks. My stomach won't let me go below so, Murray to the rescue. He goes down below, puts chemical into the toilet and pumps it into the system. In a few minutes, the air freshens and we can safely take deep breaths.
We get the sails set and head off on our course to Lucaya. The waves are still quite large and hitting us forward of the beam. Because of the waves, the autopilot cannot hold a good course and so we have to hand-steer for the first eight hours. Flextime stays within our sight and we make frequent radio contacts. The new AIS receiver was excellent! On my computer charting program, it showed us the ships around us, their name, course and closest point of approach. It certainly made it much easier to determine if we were in any danger from them and relieved my mind on several occasions. Our radar wasn't even on during that passage and it is almost impossible to read the screen now anyway.
By midnight, we had to turn on the engine and then the autopilot could take over the steering duties. Murray and I took turns catching a nap. By dawn, we were off of Freeport, Grand Bahama and arrived at Lucaya at 0740 on Dec 19th. Check in went well and I managed to get all of the salty things washed in the laundry at the marina. Then, time for a drink by the pool, a nice barbequed dinner aboard and bed.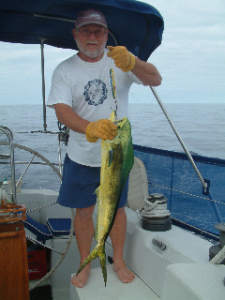 Dawn found us departing Lucaya, again in company with Flextime. Our destination was Great Stirrup Cay, 56 miles away and we motored across a FAC sea ( Flat Ass Calm ). Murray's fishing lines were deployed before we cleared the Bell Channel, the entrance to Lucaya, and he was rewarded with a 34 inch Mahi Mahi several hours later.
I marinated the fillets in olive oil with some tarragon flakes and we grilled them on the barbeque and shared dinner with Bob & Jane as the sun set behind Goat Cay. It had been a tiring few days and we soon sought out the vee-berth for another good nights sleep.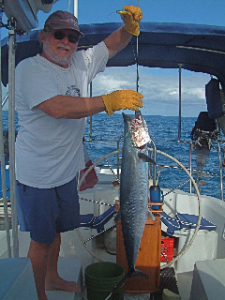 Our journey the next day was only a distance of 15 miles so we had a leisurely breakfast and departed by 0800. The fishing lines were out once again as we had heard reports of catches of black fin tuna nearby. The first catch was just another barracuda but… the line soon went zzzzing. Murray grabbed the pole and braked the reel down. He started to reel in and then the fish went zzing once more as he pulled line and took off. Slowly but surely, Murray reeled him in. "it's just another barie" he said disappointed. I wasn't so sure. "There aren't any spots!" I dashed below for the fish i.d. card while Murray slam dunked him into the cockpit. He's huge! And it is not a barracuda. It is a 17 lb, 36 inch long king mackerel and very good eating according to the fish card.
Very soon, we thread our way into the anchorage at Devil's/Hoffman Cays and get our hook down in a sandy spot out on the banks. To the west there is nothing but shallow water as far as you can see. The islands are low but will protect us from a north or north east wind. There are three boats anchored here now – Windswept IV, Flextime and Intuition I ( with Wayne & Geraldine aboard from Nova Scotia ) and Murray cleans his fish and delivers some to everyone. Bob & Jane join us for some exploration as we show them the Blue Hole on Hoffman Cay and the resident groupers. As we are checking out the reef off of White Cay, a sloop powers directly towards us, heading for the small opening nearby. We speed out to head them off as that cut is not a safe passage and they follow us to the correct entrance between the islands. This is how we meet Vickie and Noah, a young couple on a vessel names Serenus headed for the South Pacific and New Zealand eventually. Their trip may have had a bad ending right here at Devil's/Hoffman if we hadn't intercepted them.
Once they are securely anchored, we all get together aboard Intuition to share snacks and stories as the sun sets. Later tomorrow the front and wind will arrive but the evening right now is lovely.
Plans were made to look for lobster in the morning and the guys are gung ho. The dighies converge near a reef we have check out years ago. Right away, I spot a black grouper and Murray heads off in hot pursuit. One shot and he has him. Yeah! First speared one of the year. Bob is determined to find a lobster and actually does, not only find one but shoots it right between the eyes. Noah spots some conch and brings them to the boats. Time to adjourn to a nearby beach for conch cleaning lessons. Later Murray makes conch salad for the gang as they gather aboard W4 for sundowners. The wind has picked up but so far all is ok.
Nearby on Little Harbour Cay is a small restaurant called Flo's Conch Bar and the whole group make plans to have lunch there tomorrow. I have contacted Next Exit and Duet, who are anchored closer to Little Harbour and invited them to meet us there as well. By now, the wind is honking and we are all crazy to be going. But, we put on wet gear and jump into the dinghies with radios, lifejackets etc just in case. We all had a super time and enjoyed ourselves. The wind was even stronger on the return trip but all dinghies got back safely and we settled down for the rest of the day and evening. Intuition dragged anchor around 8 or 9 pm and were on a collision course with us. They got the engine on, hauled the anchor and managed to find a spot with good holding. All this was done is the pitch black night with the winds screaming through the rigging at about 30 knots or more in gusts. No one slept too soundly that night.
Christmas Eve day was spent quietly aboard. We filled the water tanks and charged every piece of re-chargeable equipment aboard with the power from the wind generator. According to Chris, the weather guy, we are stuck here for at least 4 more days. I will have to organize something ashore for Christmas Day.
Dec 28th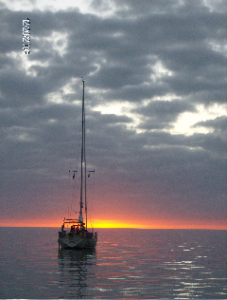 On Christmas Day, 12 people from the 6 vessels nearby gathered on a beach for drinks, snacks and games. Vickie, on Serenius, had written a variation on the Twelve Days of Christmas to make it into a cruisers Christmas and we each had a part to sing. It was a lovely afternoon and we headed back to the boats before 5 pm, to prepare our individual dinners. Later Murray and I shared a bottle of champagne until the stars. It was a wonderful day.
The wind has continued to howl and we have stayed put. Today the wind is down slightly and will continue to decrease. Tomorrow, Monday, we will haul anchor early, head to Nassau to re-supply and do laundry and then head out to Rose Island. Then Tuesday we will head southward to Norman's Cay, to dive and explore for a few days. Flextime wants to continue to follow along and we will enjoy the company.
Meanwhile we will continue to watch for the green flash! We already saw one on Friday night as the sun set behind our boat. All of the best to everyone, stay well and warm and write when you have time. But remember to write to the winlink address as we will only be able to check this one on the rare occasion that we can get a wireless connection.
Murray & Heather
aboard Windswept IV