Hello everyone
When I wrote the last time, we were headed to Spanish Wells and then on to Abaco, when weather permitted. Well, it didn't permit for 18 days!
Spanish Wells is a lovely community but we hadn't planned to stay quite so long. This year, we didn't sit on a mooring ( at $20 per day! ) but opted to move about as the winds required. When it blew from the south, we would sail over to Meeks Patch, a few miles away. Then, when the front went through and the wind changed to the northwest or north, we would cross over and anchor by town. Fresh veggies were available on Thursday, after the mailboat arrived. Then the stores would be full of people, stocking their larder. Our friends, Pete and Lani on MarNel, tempted us out to lunch many times and each time we order a slice of Mud pie to share. Yumm. Too good but not good for my waistline.

Pete and Lani were having some boat issues and grabbed a window to sail back to the US. The huge ocean swells, that were keeping us from safely entering the cuts in Abaco, finally settled enough that we could head north. Before dawn on March 16th, we motored out of the cut at Egg Island. There was at least 20 boats in sight as the sun came up and we were in the last 4. By the time we reached the Little Harbour cut, we had passed half of the fleet and used the mainsail to catch any gust of wind. It wasn't a sailing day but we were just glad to finally get to Abaco. The two fishing lines were deployed during the whole journey of 60 miles and we had not a single bite.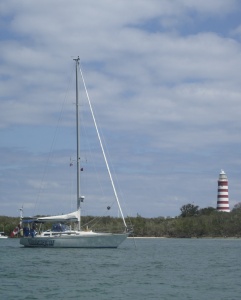 On St Patrick's Day, we moved up to Hope Town, on Elbow Cay, and anchored just below the iconic red striped lighthouse. That night, there was a dinghy drift through Hope Town harbour. Approximately 20 to 25 dinghies and motorboats were tied together and the occupants shared snacks, stories and celebrated the day with a libation or two. If we got too close to a vessel on a mooring, someone on the opposite side would start their engine and give the mass a boost in another direction. It was good fun. The next day, we visited the stores of Hope Town to show my books and, with that accomplished, we sailed on to Marsh Harbour.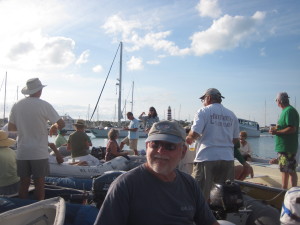 This is the big city in Abaco ( about 6000 residents ) and gave us access to fresh supplies and laundry facilities. As well, more gift shops to highlight the books. Here we met up with Doug & Sharon Sandercott on About Time. They are people that we have know for over 30 years but we seldom share an anchorage. It was great to finally have time to chat over a glass or two of wine, or beer, and catch up with each other's adventures. Another bout of bad weather was approaching, so on we sailed to Man-O-War Cay. Both boats managed to pick up moorings ( there is not enough room to anchor here ) and went ashore to enjoy this lovely town. TJ and Kaye, on Sheerwater, were on a nearby mooring and About Time also had good friends in the harbour. It was a busy couple of days but we got to sit in on a jam session with Doug on his guitar, John and David playing mandolins. Good music and great memories.
The weather was changing again and, if we wanted to head to the US anytime soon, it was time to get above Whale Cay. This passage can be very rough and had been impassable for ten days with the recent swells. So, on March 20th, waving goodbye, we set off once again. The Whale Cay cut was a little rough but there were no breaking swells. It was, again, a motorsail but we needed to run the water maker and charge the batteries. Thus we didn't begrudge using the diesel fuel. Just at lunch, we dropped the hook outside of the town of New Plymouth, on Green Turtle Cay. After a successful visit to the shops in town, the tide had risen high enough to allow us to enter White Sound. It is the larger of two sheltered basins in this island of Green Turtle. With the winds predicted to become south and southwesterly and increasing, including thunderstorms etc, it was the best place for us to shelter for the next few days.
Now we are securely anchored for the upcoming blows and have hope of a chance to cross over to the US on Easter weekend. The winter is drawing to a close. It has been shorter than usual, perhaps even windier than usual, but it has also been a good time with good friends nearby. The fishing has been uniformly lousy so don't expect fish dinners this year in T'burg! Sorry about that.
Write when you have a chance and tell us about what has happened in your life. Until we meet again,
Hugs from,
Heather & Murray