Lighthouses, icebergs and puffins! That was my bucket list for our trip to Newfoundland and we managed to accomplish all of them.
The Rialta was loaded and we headed out near mid July.

But this was not a direct trip as our route took us north first, to Orillia to visit with some relatives, to Bancroft to meet up with sailing friends for a weekend, and then on to Ottawa for a grandchild fix. From Ottawa, we dipped into New Hampshire to meet up with former sailors now living and travelling in a fifth-wheel. After a day or two, we headed into New Brunswick and met up with more sailing friends. They twisted our arms ( it didn't take much persuasion ) and convinced us to stay another day to go sailing on the St John River. What a lovely day that was!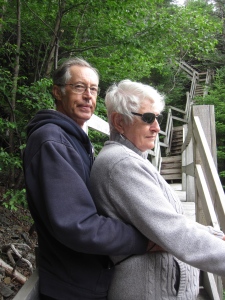 But, we had to push on as we had tickets on the ferry to Newfoundland for July 29th. A brief stop was made in Moncton to meet our travelling companions, Gail & Henry. Henry is one of the net controllers on a Ham radio net, the Mississauga Net, and we had spoke to him during the winter of our plans to visit Newfoundland. As they had similar plans and a similar sized motorhome, we decided to travel together.
On the trip up to the ferry dock in North Sydney, Nova Scotia, we visited the fort at Louisburg and very much enjoyed our afternoon there. What a project – completely rebuilding those structures from the original plans! It is definitely worth a visit, if you are nearby.
Finally, we boarded the ship and then spent the next 6 hours reading, playing games, walking the decks and watching for our first glimpse of the island. There it was! Shrouded in mist, but just visible on the horizon! Now, it is our turn to drive off of the ship and our wheels touch the ground. We made it! We are in Newfoundland!
What in the world! There are huge hills, dare we call them mountains! That was unexpected. We drove north from Port-aux-Basque and stopped at a convenience store at Doyle. To our inquiry re a place to stop for the night, the man answered, as best I could tell, that "just across the road, in the Irving truck yard. Nobody'd bother you there, byes!"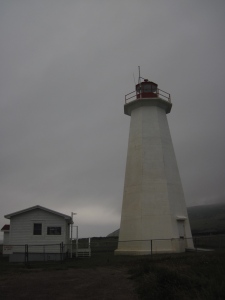 The next day, our explorations began in earnest. The first lighthouse was visited, at Cape Anguille, down the first of many roads filled with pot-holes. On the return to the main highway, we drove through the lovely Codroy Valley and stopped at a fish packing plant to purchase some cod. But, our goal was to get north as soon as possible and maybe find some icebergs still hanging about. So, on we drove.
Finally, we arrived in L'Anse aux Meadows, at the very tip of the northern peninsula and toured the site of the Vikings arrival in 1000AD. In St. Anthony, we boarded a sight-seeing ship and headed out into the Atlantic. Icebergs! I see icebergs! There were two still around, one small one and one huge one that was aground in 200 feet. Because it was grounded, we were able to get close and I took lots and lots of photos. But, icebergs are beautiful and scary, at the same time. When you see the size and realize that 90% of this object is submerged, you come to respect the damage they can do, when they roll over or a chunk breaks off.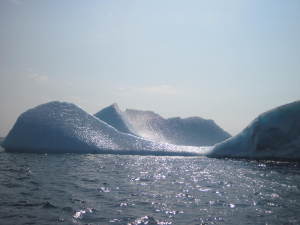 With one major item crossed off of the list, we decided to visit Labrador. It was a spur of the moment thing and a good decision. The ferry cost us less than $60 return, with the small motorhome. From St Barbe,we boarded the rather tired-looking ferry and crossed the Straits of Belle Isle, in about two hours, landing at Blanc Sablon, in Quebec. From there, it was just a few minutes until we entered Labrador. Evening was fast approaching and we found a lovely spot to spend the night – in a walking trail parking lot, overlooking a lovely beach in L'Anse au Clair.
In the morning, we proceeded to investigate this part of the world. The roads are not great! And the hills are very steep, straining our little motorhome to make it to the top. Once on top, we could see ahead of us – more hills! And so many lakes! It must be a fisherman's paradise. We visited Pt Amour lighthouse and the guys climbed the 128 steps to the top, while I toured the family quarters below. Back on the road, dodging potholes, we headed to Red Bay and the site of Basque landings here in the 1500's. The museum was full of artifacts from wrecks, re-creations of Basque type clothing of the time, scenes of life ashore and whale bones. Very interesting site!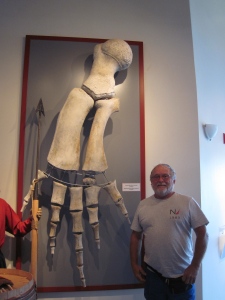 A wonderful fish dinner was enjoyed in the Whalers Restaurant, Red Bay. We had read over the menu choices, when the waitress said " we are famous for our fish". She was absolutely correct as that fried cod dinner was the best one we ate during our whole visit to the island! That night, we stayed in the parking lot adjacent to the restaurant.
Just to say " we did it", we drove a short distance on the road north of Red Bay. You cannot call it a highway as, after Red Bay, it becomes gravel. Our understanding is that paving has commenced, between Labrador City and Goose Bay but they have many many miles to go. And we thought that the potholes were bad on the pavement! So, we turned about at this point and headed back to the ferry and crossed back into Newfoundland.

Heading back down the peninsula, we stopped in Daniels Harbour to tour Nurse Bennett's home. But, it was 5 pm and they were just closing. " You can spend the night in our parking lot!" It was a deal and another lovely evening with a beautiful sunset.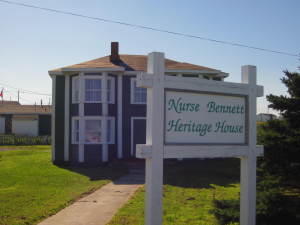 Nurse Myra Bennett's home had remained in the family and all of the furnishings were original, along with the medical instruments she used during her many years as an Outpost Nurse and the only medical care for many hundreds of miles. She visited her patients by dogsled, horseback and boat, depending on the time of year. A very interesting woman who was decorated by the Queen for her service.
Next on our agenda was a visit to Norris Point and we spent two days in the KOA nearby. Bonne Boat Tours, in Norris Point, entertained us with sights of Gros Morne, minke whales and bald eagles. But the musical entertainment aboard only whet our appetite for more. Tickets were obtained for the Anchors Aweigh show, in Rocky Harbour. What a fun night that was! Great music, good food and tooo much wine!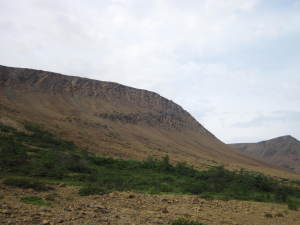 Our plan had been to check out the villages of Woody Point and Trout River, on the other side of Bonne Bay, when we headed back to the ferry at Port-aux-Basque. But, our travelling companions pointed out that we would have to travel much further doing that and recommended that we make those stops today, before heading on. A great decision! What a different area it is, near Trout River – the tablelands, where the earth's mantle has been forced up to reveal what is usually buried deep. The ground is red and barren and the hills are flat-topped mesas, making the area look more like Arizona than the usual forested Newfoundland. Woody Point is a lovely and quaint village offering many shops and restaurants – a wonderful place to visit where we could have spent much more time.
But, we pressed on, heading into north central Newfoundland. Then the rain started and night fell early. We were glad to finally stop for the night in a Walmart parking lot in Grand Falls. Terra Nova National Park was our next stop and we toured their Visitor Centre. As the weather was expected to be rain for the next few days, we adjusted our travel plans and spent the night camped at the home of some friends from Hickory Hills. They made us very welcome and opened their beautiful home to us.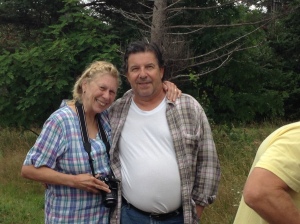 More visits with friends were scheduled for the next day, as we stopped in Heart's Delight to meet Ham radio contact, Doug Card and his wife Karen. Another wonderful evening.
By now, we have discovered a problem with our refrigerator – it won't work on propane! Now, that is only a problem if we don't have access to power overnight. But, as our usual stops are not traditional campsites, we need that feature to work. It is a weekend, so we must be patient until we can contact a RV repair facility – maybe in St John's. So, we travel together to Bay Roberts. But, Murray wants to get this dealt with and we make plans to go alone to St John's and be at the RV centre for first thing on Monday morning. The two RV's go their separate ways.
As we are preparing our lunch, Murray suggested that I call Crystal, a friend of ours from Ottawa, who was visiting family nearby. Lo and behold, she is out with her parents and they are just five minutes from our position. Dave & Sheila Mugford, and their family, are the most welcoming people we have ever met! They insisted we spend the night at their home,in Makinson, plugged in so the frig would work. Members of the family recommended a repair facility much closer, and cheaper, than St John's. The bottom line is that we spent two nights there, got the frig repaired and spent some hours with real Newfoundlanders!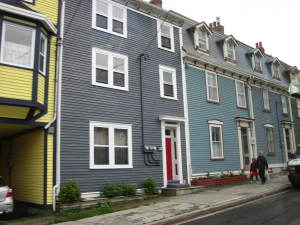 Eventually, we had tore ourselves away and headed on to the big city and met up with our travelling companions again in Pippy Park, a campground right in the city. While making our way there, Murray finally mentioned that the transmission was slipping and had been for several days. He was becoming quite concerned. Using my iPad for research and to make phone calls, we finally located a shop that could change the transmission fluid but no one had access to a new or rebuilt unit or parts for a week or 10 days. So, rather than strain our already damaged transmission more, we opted to take a bus tour of the city. That was a wonderful way to see all of the highlights and learn more of the history of each tourist attraction.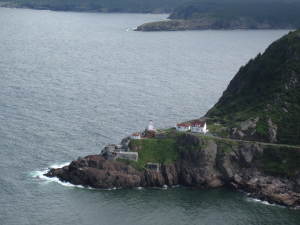 Also, due to the ailing transmission, we decided to cut our trip short and limp homeward. I managed to book tickets on the ferry, leaving Argentia on Sat 16th. Gail and Henry surprised us by saying that they wanted to head back with us to make sure that we made it, at least as far as their place. So, we all got tickets on the same ferry.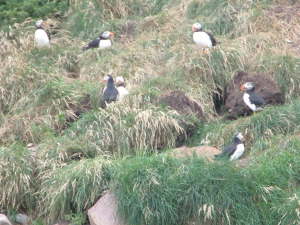 The transmission fluid ( $40 per litre plus labour! ) was changed and we headed on to Bay Bulls and another boat tour. We saw puffins!! Lots and lots of puffins! They are very tiny and fly very fast. Difficult things to photograph but I did manage it. They spend summers on islands in this area, burrow into the ground to lay their eggs and raise their young, out of the reach of marauding gulls. Winters are spent in the water on the edge of the Grand Banks.
Our challenges were not quite finished as, after the boat ride, Murray found a tire going flat. There was a screw in it! Drag out the jack, the wrench, the spare and then the work started. But he couldn't loosen the nuts! Even with Henry's help, those nuts stayed tight. Luckily, a truck stopped and a voice called " Are you having some trouble there, b'ys?" It was Russ, from Russ' Tire Service! He removed the tire, repaired it and replaced it for $20 at 8 pm! What a gentleman! Are we lucky or what?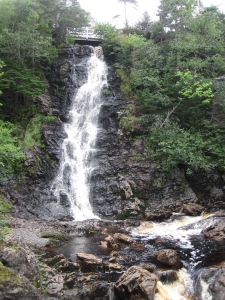 We spent the night in the parking lot of the boat tour company and headed out early the next morning. Reading the guidebook, Heather found mention of the waterfalls at Cataract Park, not far from our planned route. But, the guidebook didn't mention the condition of the road! Oh my! It was terrible and we just crawled along. Eventually, we passed some signs indicating the park was just ahead but no sign of a park. "Oh, there are some stairs! Maybe this is it? " It really was worth the effort that it took to get here. We walked the many boardwalks and stairs, watching as the tea-coloured water poured and tumbled over the rock faces. Truly a lovely spot.
On we pressed to St Mary's Ecological Reserve where we walked for a long distance on the cliffs to see thousands of Northern Gannets, Kittiwakes and Gulls of many kinds. Another unique facility allowing visitors to come quite close to nesting birds. And those cliffs! Nothing prevented you from getting too close to the edge, except our instinct of self-preservation. Of course, we didn't stop at the first viewing point but continued on to Bird Rock, travelling a very rough, uneven path up and down hills. It was our exercise for the day!
That night, our last in NL, was spent in a cattle loading yard. We had thought to stay in a campground nearby, but it was just a gravel lot with motorhomes parked side by side – for $40. Not for us! Our spot was quiet and free!
As we had just 60 km to travel to Argentia, we started out later than usual. But, the road was atrocious! It was so rough, we lost a wheel disc during the day. The scenery was beautiful with large hills, small villages and always the view of the Atlantic to our left. The transmission seemed to be handling the hills quite well and we hoped that perhaps we would make it all the way home, without incident. We boarded the ferry around 5 pm and arrived back in Nova Scotia around 9 am the next morning. The crossing was smooth but neither of us got much sleep. Perhaps we should have spent the $200 for a cabin!
Our visit to Newfoundland ended up being only 18 days but we travelled 1695 miles or 2712 km within the province. Our total expenses were $4860, of which $600 were for repairs to the motorhome. We only spent $200 for campgrounds, opting instead to stay in less traditional places. But we did spend $1000 for entertainment including meals out, boat tours and museum visits. That money was well spent and we do not begrudge a single penny.
Would we go back? Certainly! There are a few areas that we didn't get a chance to visit. Maybe another year.
Bottom line – the province has unusual and incredible beauty and wonderful people! We loved it!
Oh, I forgot to mention that we DID make it all the way home but now the Rialta is in the shop for a transmission re-build.