Our crossing back to the US wasn't without it's challenges. But, it never is simple, is it?
We hauled anchor and departed White Sound in Green Turtle Cay early one morning. The wind was supposed to die down and shift more easterly.But the wind didn't listen to the weather guru! It continued to blow hard from the northwest, making us heel over onto our ear as we sailed along the coast of Great Abaco. The wind was so strong that we stopped and anchored for a time, thinking that it would die down. After a quick lunch, we convinced ourselves that the wind had calmed somewhat. So, we hauled anchor once again and continued on. Rounding the corner and turning onto our next course, we found the wind directly on our nose! And blowing 20+ knots ! Motorsailing towards Great Sail Cay was our only option at this point. And the usual anchorage was going to be too far for us to make within daylight hours. With the wind due to clock more to the north, I studied the chart and found us a spot to tuck in for the night. And, just after dark, we dropped the hook in this protected cove.
A few hours later at 0400, we hauled the anchor again and followed friends down around the southern tip of Great Sale and on past Mangrove Cay. The plan was to make passage through the Indian Rock Channel but, due to shallow water, we needed to arrive there at high tide. Thus the early departure. The channel wasn't quite as shallow as advertised and we made good time out onto the Atlantic. The deep water was quite calm and we motored on towards the West Palm Beach entrance and arrived there about 10 pm that night.
After a good sleep, we launched the dinghy and checked back into the USA on March 25th. By noon, we were back aboard and ready to head north up the ICW. Many bridges later, we dropped the hook in Hobe Sound and finally relaxed. Now it was just a matter of motoring north. We stopped in Cocoa and planned to spend the weekend. Finding no easy access to a grocery store and bus drivers without change, Cocoa let us down. We decided to push on. Weekends are usually busy on the water with the local boaters and we tend to stay put and let them roar around. The weather report wasn't great with cool and windy days and we hoped that the locals would stay in their harbours. And they did! We made good time northward and arrived in the St John River with an extra day in hand. So, we motorsailed up the river and anchored at the mouth of Julington Creek just after lunch. Launching the dinghy once again, we piloted it up the creek and had a lovely dinner at Clark's Fish Camp. This is our favourite restaurant for seafood and we try to go there each year.
Before noon the next day, April 1st, we were snugged up to the dock at Reynolds Park Yacht Center with haul-out scheduled for April 9th at Green Cove Springs Marina. Time to clean out lockers, pack clothes, check all cans to be stored aboard and prepare for the summer storage.
Haul-out went well and we finished up and were under way by noon. We were thrilled to notice that the local Moose Lodge was having their monthly pork barbeque. Pulled pork for lunch! Boating friends who live on Hilton Head Island had invited us to visit and we spend a lovely evening sharing our respective winter's adventures. In the morning, they took us on a golf cart tour of their community.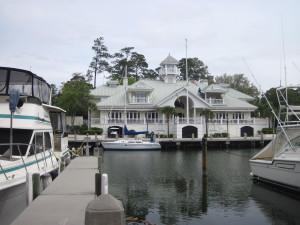 What a lovely place! But, we had miles to go before we could sleep so we pulled ourselves away in the late morning.
The little Rialta made good time and we arrived back in Ontario a day earlier than necessary. Just enough time to stop in St Thomas and meet our newest grandchild. It was bedtime but James was still awake so we got to exchange hugs and give him his belated birthday presents. Violet was sound asleep in her crib. Even though I tried talking loudly in her room, she slept on. Later, my sister suggested that I should have kicked the crib. That might have worked! But, we did get to see her and have had many chances to hold her since then.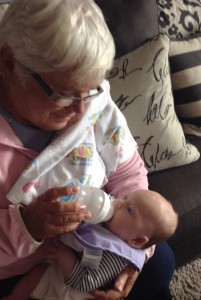 Life here in Hickory Hills keeps us busy with dances, coffee hours, the AGM and my work in the library and on the Holler committee. Murray is again helping out at the farm when needed and we have a long list of neighbours who want us to start their irrigation systems. In my spare time, I sew and am starting a queen sized quilt. Murray is re-doing the front entrance as we ordered a new front door. And that job snowballed into new patio stones, new step etc etc.
But, that is life on shore. We hope that your life is going well and everyone who is important to you stays healthy. Enjoy every day and live each one as though it might be the last.
Hugs
Heather & Murray