Hello all,
Well, the boat is stuffed with food and so is the fridge and freezer. The decks are scrubbed, the sails are on and the new sewing projects are installed.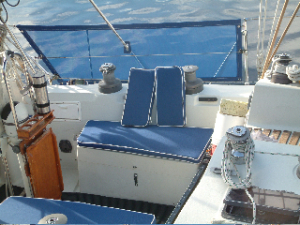 Here you can see the new cockpit cushions and the weather cloths. The cushions seem a little too full at this moment, but they should lay flat soon. If not, we will trim a little off of the edges of the foam. Otherwise, the cushions seem to fit well and are more comfortable than the old closed-cell foam ones. Closed-cell foam floats and is found in most life jackets. So, we used that foam for our cushions. But, it is hard!! Not soft seating at all. The support post for the bimini passes through the weather cloth, neatly measured by Murray and also cut out of the fabric with his handy dandy soldering gun.
The new main hatch screen should keep most of the bugs at bay. I say most because of the " no seeums" . They really are no seeums and sneak through the tiniest screening imaginable. We use screening that is like silk stockings, it is so fine. But, it doesn't allow any air through either. On a hot, airless night it is the pits. Yeah, turn on the a/c right? No a/c aboard, sorry. But there are a couple of fans for such occasions.
You can see the screen in place under the dodger. It snaps in place and yet unsnaps easily to allow access to belowdecks.
So, about our plans. We will leave the marina tomorrow morning early. It will be cooold! Almost freezing. But, by 5 pm we should be anchored at Blount Island, near the entrance to the St John River. Thursday morning, we will head on down the river and into the Atlantic, if the weather stays clear. Within 36 hours we should be in at Ft Pierce and at anchor. If the weather turns against us, there are several ports where we can duck into smoother water.
Because it is unlikely that we will have a wireless connection when we leave the marina, make sure that you write to us at our winlink address. Just in case you forget, it is ve3zua@winlink.org and reaches us aboard through a slow radio connection. So, we request that you do not send photos or jokes to that address. If you have something that we really MUST see, send it to this address and we will get it eventually, whenever we have access to the internet.
Once we have had a chance to test the boat's systems, we will watch for a window to cross over the Gulf Stream. But, we will keep you posted.
Hugs to all,
Heather & Murray