Hello everyone,
I know that I have been delinquent for the last month and have written neither to you nor the website. But, now that Steve and Katherine's wedding is over, I should be back on track.

We arrived back in Ontario on April 12th, Easter Sunday. Murray has been moaning and groaning about the temperatures, as most people were, but I have relinquished control over the weather. Other than the mail taking over much of the kitchen counter, the house was in great shape. Once the mail was dealt with and the tax info dug out of the pile, we started to make plans.
First there was a shower to organize for the bride and groom-to-be. It was a family event and held on the 25th of April with 15 people for dinner in our small house. But, all went well and, with extra chairs borrowed from neighbours, everyone had a seat at a table.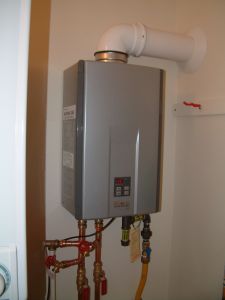 And sometime in the middle of everything, Murray found the time to install our new tankless natural gas water heater and remove the old 40 gallon electric one. He did all of the plumbing and wiring and called in an expert crew for the gas connection. Our utility room now has much more available space which will eventually be taken up with a wall unit/storage cupboard. The energy usage of the new unit will be appreciably less and thus, also our expenses.
Then there was a tux to order and plans to be made for the wedding day. I drove to Orillia and picked up my Mom on May 7th. Kath's parents, David and Carole Mann from B.C., arrived on Sat the 9th and Steve and Katherine hosted a Mother's Day brunch.
Then the time seemed to fly by. Jeremy, Cynthia, Matthew and Samantha arrived late on Wed and stayed here with us. On Friday, all of us from T'burg moved over to the Lamplighter in London. That night we hosted the rehearsal party at the hotel, serving pizza and snacks. Any of you who know Steve will realize that he lived on pizza for many years!
Saturday, of course, was the day of the wedding. It rained but couldn't dull the smiles on those two faces. When I think about it I remember that it also rained on Jeremy & Cynthia's wedding day, almost 9 years ago! It didn't slow them down much either. Both Matthew and Samantha were a delightful part of the ceremony. Matthew delivered a mauve rose to myself and his great-grandmother, my mom. Samantha was a diminutive flower girl and walked down the aisle as though she was much older than 1 1/2 ( although she didn't want to carry her basket and throw the rose petals ).
The whole event was lovely and we will post some photos when they are available. I DID promise at least one picture of Murray in a tux!
Jeremy and Cynthia went on to Toronto to visit with her dad and step-mom before flying back to California today. Steve and Kath had lots of visitors from out-of-province, so postponed their honeymoon for a week. We will be cat-sitting while they fly off to Jamaica for a much needed respite.
Now we will finally start the installation work of our hardwood flooring. First the carpet must be torn out, the staples removed and the floor securely screwed down. Murray even bought me my own cordless drill so that I can help with all the screwing. I think that he bought 2000 screws which need to be installed into the sub-floor. Mur is in his element with new tools to play with – a flooring nailer, a brad nailer for the trim and a compressor to run it all. Our talents have also been discovered locally and we fill our spare time with odd jobs and computer fixes. Oops, spare time filled with a phone call, Mur is off to Randlawn Farms for the rest of the day, assisting with planting now that the temperatures are right.
A flooring installer is coming next Saturday to give us some tips and get us started correctly. So, we must have the carpet removed from the first area along with the furniture. The house will be a disaster zone for a month or two while this job continues. On a positive note, the vegetable garden is planted and the flower pots thriving. Mom Rand's wind chime is bonging away in the tree in the front yard and some of Murray's beach finds swing there as well.
Please, stop by for a visit but expect a little messiness. We would love to see you anyway and are always looking for an excuse to stop working.
Hugs,
Murray & Heather