Well, I have certainly not kept my promise to write more often, have I. It has been a very long time since we have been quite this busy and all of that without going out to work.

The last message found the floor almost finished and travels starting. Well, the floor is done and we spent a few days at a cottage on Lake Huron with Linda and Kuyler. While there, we managed to catch up with friends, Brian and Kathy, s/v Tundra, who we met in the Erie Barge Canal in 1997! They are still cruising as well and left their boat in the Rio Dulce, Guatemala this summer. We returned home from there, did the laundry and re-packed for another trip. This time towards the east.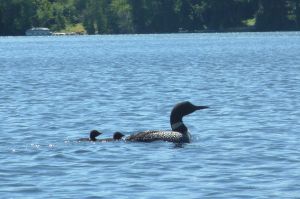 Friends, Al & Marilyn from s/v Scaramouche, have a home on Amherst Island, near Kingston and we had arranged to spend one night on our way to Ottawa. As they have hung up the cruising life for now, it was super to spend some time with them again and to reminisce of beach parties etc. From there, we headed on to Ottawa where Jeremy and Cynthia and the kids were spending some time visiting family and friends. They were staying in a hotel in Kanata and we had arranged a room there as well. It was fun to have no responsibilities for meals or cleaning and just large periods of time to spend with the grandkids. But, the dollars racked up and after a couple of days, it was time to move on again.
Now we headed more north and west to the Bancroft area where Bob and Jane from s/v Flextime, have a cottage on Monck Lake. Another cruising couple, Doug and Sharon, on s/v About Time, joined us there and a super time was had by all. Despite the cooler weather. While kayaking one morning, I managed to get some fairly close photos of a loon and her young and will post them on the website. I also got some video footage and will try to post that as soon as Jeremy teaches me how to manage to do it. Bob & Jane put up with us for four whole days and then they could take it no more.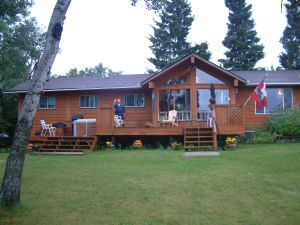 On we traveled, picking up my mom in Orillia so that she could experience some of the craziness around our house. The weather stayed cool and rainy, so she didn't get to aquasize as often as she would have liked. But, we enjoyed her company for about 10 days and returned her back north, before the August holiday weekend, to avoid the heavy cottage traffic.
In mid August, we jumped into Linda and Kuyler's Roadrunner and headed further west, to visit our friend Gary. He had purchased a country home about 2 hours north of Winnipeg. This man had made the drive to Killarney from Duluth, MN, Grand Forks, ND and Winnipeg, MB. Just to spend a weekend with us! Anyhow, we owed him a return visit and this was the time. To shave expenses, we shared rooms with Linda and Kuyler on the journey, cooked dinners on her George Forman grill and made sandwiches along the roadside. At Gary's, we pitched in to complete some of the tasks on his "To Do" list while also enjoying the local countryside and swimming in nearby Lake Manitoba.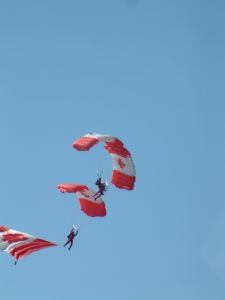 After spending five days with Gary, it was time to hit the road once more. The drive from Winnipeg, across the top of Lake Superior, is certainly full of wonderful vistas. Murray got into rally mode on the twisty roads and the miles were eaten up. By the time we reached our door again, it had been a 4700 km journey!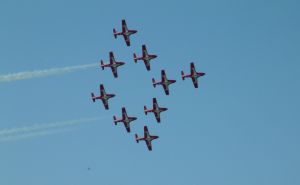 The next weeks flew by again, with more visits from friends and dinners here and there. Doug & Connie, from s/v High Stepper, took time to drive here from North Carolina for a couple of days. The Brantford Air Show was on at that time and we spent the afternoon with our necks craned high to watch the skydivers, stunt pilots and precision flying.
And now it is September. Last night, we had planned a street party. I contacted the town office and received permission to close part of our crescent for the late afternoon and evening. The town even delivered barricades for the road! Approximately 40 residents of our street showed up. Murray cooked burgers and everyone brought food. Mur set up a sound system with his old speakers and we danced until the mosquitoes drove everyone home. All in all, it was a wonderful evening and everyone wanted to make sure that it became an annual event.
This week, we are headed to Lake Muskoka to visit more cruising friends. And very soon, we will fly to California to see Jeremy and Cynthia and the kids. Linda and Kuyler are flying down as well and we will spend about a week sightseeing. Maybe even drinking some of that Napa Valley wine.
So, as you can see, we have been busy. I am not just making that up. Life is very full and we are happy and healthy. What more can we ask for? A new grandbaby? Well, there is one of those on the way as well! Steve and Kath will be parents in early March.
Hugs to all and we will try to get together in October with all of those whom we have missed so far . Maybe things will slow down a little by then.
Heather & Murray