Concern had been expressed by Miss Maxine that the weather would be too bad for the planned party. But, some cruisers convinced her that Sunday would be fine rather than the initial plans for Sat.
Two cold fronts had come through in just one week and we had been hiding south of Hog Cay for days. Everyone was bored with being trapped aboard due to high winds. Some dinghies had braved the space between boats to play dominoes or farkel but most just stayed aboard and read/watched movies.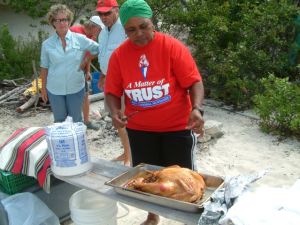 On Sunday, the wind was still north and, with trepidation, we stuck our noses out around the point and headed for the anchorage. Boats sailed down from Doublebreasted Cay and Man of War Bay as well. Eventually there were 23 boats at anchor off of the party place, bouncing in the waves. The men had gathered wood and expanded the fire pit to accommodate all of Miss Maxine's big pots. A decision was made to collect funds from the cruisers to contribute to the cost of the event and to provide for next year's party.
Maxine arrived with all of her food about 1330 hrs but, unfortunately, the children didn't accompany her. It was too cold! In fact, church had been canceled that morning as it was just too cold. The temperature was probably 65F or 17C! We all wore shorts though as it warmed up on the beach.
The cruisers contributed salads and desserts to add to the turkey, ham, macaroni and cheese, peas and rice, chicken wings, cookies and bakery cakes provided by Maxine and the ladies of Duncan Town. No one went away hungry! Some of the men from town came out in their boats to visit and have some of the leftovers.
The bonfire continued on into the evening as everyone was loath to end this day and it was full dark before we headed back to tumble into our vee berth.
The wind switched around in the morning and allowed us to sail northward to Buenavista Cay, where we took shelter once again in preparation for a cold front. Lady Marie, a fishing boat from Spanish Wells, is anchored here as well and we visited them to purchase some hogfish and lobster. Thank goodness the freezer still works. The frig is still under the weather and we freeze a bottle of water in the Engel, switching it out every 12 hours, to keep the frig slightly cool. Oh well, ….
that's life aboard!
Hugs,
Heather & Murray