Luckily, this year we arrived in Staniel Cay in time for all of the New Years festivities.
After checking out the new restaurant/beach bar for lunch, we dropped into Isles General and bought the last bunch of bananas and a couple of green peppers. An auction was held at Staniel Cay Yacht Club along with free rum punch, beer and snacks provided by the "C Class" Racing Committee.

The auction was a fund-raiser for the Cruising Regatta and we try to support this event by donating objects or purchasing interesting things. The organizers of the Mixed Doubles ( the mixed refers to Bahamians and tourists as crew ) Racing for the next day announced that all who signed up to crew would be accommodated aboard one of the vessels in the three race series. This year, the races would be aboard two Class A vessels, Tida Wave and Lady Muriel. The Class A Bahamian racing sloop is 30 feet long with a 65 foot mast and 35 foot boom approximately. They use 6000 pounds of lead ingots for ballast and two or three"pries"( that is a long board or pry that is slid from side to side as necessary ) loaded with crew to limit the heel angle. Just before sunset, we dinghied back to our boats at anchor by Big Major Spot.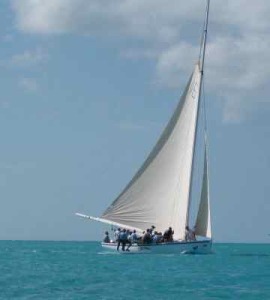 The races were scheduled to start at 10 am on the 31st but, in true Bahamian fashion, they actually started at noon!! Murray was selected to ride on Tida Wave in the second race, so we packed some sandwiches and headed off to town again. Once I dropped Murray at the yacht club, Connie ( from High Stepper ) and I took our dinghy out onto the race course to get some photos of the action. Doug was aboard Lady Muriel and the outhaul on their boom broke just as they rounded the first mark. Tida Wave took full advantage of this to extend their lead and handily won the second race. Lady Muriel fought hard during the third race but it ended up being a 3 to 0 series, with Murray being on the winning crew. The awards ceremony took place at the Yacht Club, with some jackets being given to the "tourist" crew members. But, as they didn't have enough for all, it was decided by lottery and Murray didn't win one. Oh well, orange isn't his colour anyhow.
That evening was the Cruising Regatta Skippers Cocktail Party and we made our way over to Happy People's bar to attend and to sign up for the race. For $30, Murray got a tee shirt, a ticket to the barbeque and race entry. For another $15, I had a barbeque ticket as well. The cocktail party wasn't up to the level of previous years as the food ran out quickly and the rum punch was so-so. The committee was very much missing the organizational skills of Joan Mann, who was off the island due to health issues. Once more, we aimed the dinghy towards Big Major Spot in the gathering dusk.
We have been told that there was a super fireworks display at midnight. But Murray and I woke with the noise only enough to say " Happy New Year" and go right back to sleep once again.
The dawn broke with all the wind expected. It was blowing 20 to 25 knots. This was not C & C weather but we decided to race anyway. Only 8 or 9 vessels signed up due to the predicted heavy winds. Luckily we had lots of crew: Jerry from Blue Jacket; Don from Next Exit; David and Bob from SaYes. With a triple reefed main, we headed out onto the race course for the scheduled 10 am start. High Stepper was forced to retire, before the start, due to a ripped mainsail. One of the boats, a brand new 85 foot custom Ted Hood design, Sea Hawk complained that the mark was in water too shallow for them to reach. When the course was modified and all racers were in place, the start flag was given. Windswept IV was second over the line and making good time downwind with the spinnaker pole holding the jib in place. By the first mark, Different Drummer, a Bristol 477, had passed us along with Sea Hawk. Tida Wave was out with a crew of locals and called for buoy room at the mark. By the next mark we had edged them out but were forced to duck their stern in order to tack onto the course back towards the committee boat. Once we crossed the start line again for the second circuit, Tida Wave had fallen quite a ways back and only an aero-rigged catamaran, Felix the Cat, was near us. By the finish, Different Drummer was first, Sea Hawk second and us in third place. Sea Hawk was plowing the bottom during most of the last leg, which slowed them down quite a lot.
As the barbeque wasn't scheduled to start until 5:30, we opted to take W4 over to town and towed several dinghies for other cruisers who wished to attend the event but didn't want to come back in the dark. After speeches, trophy presentations and straw gift bags containing goodies for the participants, the meal was served. Peas and rice, chicken or pork, along with coleslaw and macaroni and cheese – typical Bahamian fare and delicious. By now, it was pitch black and we made our way cautiously back to the mother ship. Using spotlights, computer charting and Murray's good sight, we piloted back to Big Major Spot safely, anchored again and sent all of the dinghies off to their respective boats.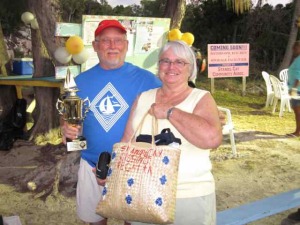 After a day off to recover from all the partying, we sailed down to Little Bay south of Black Point on Monday. Plans were made for a spaghetti dinner at The Sandcastle, with friends from shore and aboard 5 other boats. The Sandcastle is a real castle, with four towers with turrets rising three stories, powered by a wind generator and many solar panels. Doug & Jean Spencer make the cruisers very welcome in their home and often have dinners or cocktail parties. Frank and Peg O'Brien " O'Brien's Landing" have a house on a nearby beach and also often host cocktail parties on their deck and it was wonderful to see them again as well. Everyone brought something to contribute to the dinner and it was a feast with hot snacks beforehand, a wonderful spaghetti followed by two different desserts. Murray was in heaven with the rare option of desserts.
Today he has gone back to the castle to work with Doug to build a motor hoist for our outboard. Between the two of them, I expect it will be a successful and useful item. It will allow Murray to lower or raise the outboard from the railing to the dinghy all alone. Later we hope to take a beach walk and then move over to town, to do laundry tomorrow. Another cold front ( the first since Christmas Day ) is expected Thursday, so we will need to move into a place with westerly protection later tomorrow. But, Black Point not only has laundry, they also have free internet and I will be able to send this report winging on its way.
Continue to respond to the winlink address. I will just use this e-mail when I need to publish photos etc on the website and, if you check the site later, there should be some new pictures for you to enjoy.
Hugs to all and write when you have a moment.
Heather & Murray