Hello all,
Murray and Don took a taxi early Monday morning to the car rental agency to pick up the vehicle Tina had reserved for us. When the cab driver doubled over in laughter upon sight of the car, we suspected there might be an issue. Wiping tears from his eyes, he said " Chinese cars! Many problems!" It was a brand new Geely, a small passenger car but underpowered as we discovered in the mountains. Back at the marina, we loaded up our gear and set off on another type of adventure.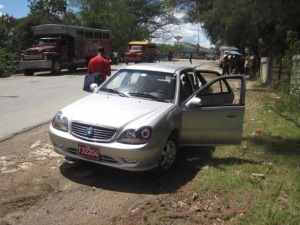 As they hadn't wanted to pay for an extra driver, Murray was the designated driver for the whole journey. The map book that we had been given was lacking the pages most pertinent to our itinerary, so we already had a disadvantage. But, our first wrong turn happened just a half hour down the road on the first round-about. Once we got straightened out and underway again, we soon found the auto-piste or highway. It was just a two lane road that wound through small towns and villages as Murray dodged horses and buggies, oxen pulling carts and bicycles galore.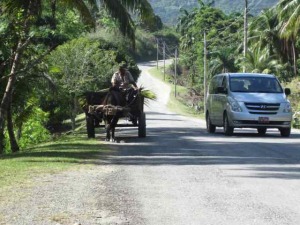 Bayamo was our first destination and had been recommended by other cruisers as a great stop. Using a guide book, supplied by Lori and Randy on Solemate 3, I had selected Villa Bayamo as our domicile for the night. The road map failed us and my guide book map seemed quite lacking as we wondered the narrow streets of the city. A young man on a bicycle took pity on us and led us across the town, up and down hill, around corners to Villa Bayamo, for just a few pesos. The accommodation was actually separate flat roofed buildings, each capable of sleeping 6 persons in two separate rooms, for which we paid $32! Taking a taxi, we ventured back into the centre of town and walked the lovely parks and plazas there. Another young man, with impeccable English, chatted with us and recommended a spot for our late lunch. At the restaurant, Bodega, we enjoyed another lovely meal while Cuban minstrels serenaded us. This was our most expensive meal of the whole trip, costing $66 but that included drinks and dessert for four. Back at the hotel, it was time to cool off in the pool and just relax.
After a good breakfast ( included in the price of the room! ) we headed off once again. From Bayamo, we headed east, passing through Guantanamo about lunch time. At a recent stop for gas, I had purchased some cold beer. Once we found some roadside stands selling a type of pizza for 5 pesos each, we had our lunch. From this point, we took the road that followed the coast and had many glimpses of the churning seas. Then the mountains started and the road became very twisty. Some turns seemed to be in excess of 270 degrees! Wherever the road widened, several locals would be standing, trying to sell small items to us as we passed. I am not sure who would stop to buy as it would be quite dangerous. Finally, we arrived in Baracoa. Unable to find a casa particular that could accommodate both couples, we ended up staying a couple of streets apart. The cost? Per night, $25, breakfast $3 each and dinner $8 each. We stayed two nights,had four breakfasts and dinners and a few beer and water bottles for a total of $100. That is a fortune to the Cubans where an engineer may make 20 CUC per month and a doctor 30. I am using CUC and $ interchangeably as they are virtually identical in value in Cuba.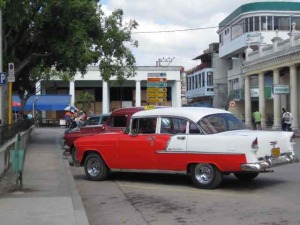 A day was spent sightseeing in this remote town and early the next morning we again headed out, taking the road to Moa. This road was not in good repair, we had been warned. But the ranches were they grew cocoa were along this road and it was a more direct route back to the marina. Right…. a little rough! The holes were big enough to hold two cars and the surface beyond the holes was very rough. Murray used all of his rally skills to keep the car from being destroyed by a rock or huge hole. Somehow we missed the cocoa ranch but didn't want to turn around. Eventually, Moa came into sight and I remarked that it reminded me of Sudbury, before the superstack. Later we found out that there is a large nickel mine here and the trees and vegetation have been devastated. The land around Moa is very red, even darker than Prince Edward Island, almost a burgundy colour. By late afternoon, we were back at the marina and glad to spend the night in our own comfortable beds.
What did we learn on this journey? That the Cuban people are lovely, friendly and interested in us. That the countryside is green and lush and mountainous in parts with many farms and ranches growing fruits and vegetables with goats, cows and horses abundant. So different from the near desert of the Bahamas. That it is possible to eat cheaply in Cuba, buying from street vendors but some restaurants can be very expensive. Also most toilets are "hovers". They don't have toilet seats and often don't supply toilet tissue. That the country has an interesting history and we need to do a lot more reading and investigating before our next journey.
Will we go back? Probably, although it is not cheap for foreigners in Cuba. In the two weeks, we spent $1200 Cdn, including everything – the marina for two weeks, check-in fees, food supplies, taxis and car rental, hotels etc and some small souvenirs. If we had been able to anchor, things would have been much cheaper but that isn't an option in Vita. Well, you can anchor – for $0.30 per foot per night but it is very difficult to get ashore, with no ladders on the docks.
But, this is already too long and I will write more another day. Love and hugs to all,
Heather & Murray
PS Crossed back to Hog Cay, Jumentos yesterday March 16th.