Once again, time has slipped away from me. But, in my defense, things have been hectic here at the house.
Steve and Katherine traveled to British Columbia near the end of June as her father was very ill. In fact they stayed there for six weeks. Luckily Steve's job allows him to work from home, with a computer and cell phone. Unfortunately David passed away but they were there to see him each day and to make it slightly easier for Kath's mom.
In early July, Murray and I drove to Ottawa to spend some time with Jeremy, Cynthia, Matthew and Samantha. Oops, she prefers Sammy now! The time flew by but they made plans to visit with us in August.

On the way home, we stopped in Cobourg to visit with Mary and Rob MacLeod. They had sailed to the Bahamas and met up with Murray and I in 2009. Rob is very computer-literate and has published several books on boating. By the end of the visit, he had put me in contact with a friend of his who could edit my book and put it into the format necessary for publishing. Wow, the book took a huge jump forward!
We were home for only one day as we did laundry, mowed the grass and re-packed to head for Bancroft where Bob and Jane Argue have their cottage. Once again these are boating friends who traveled with us several times aboard their boat, Flextime. It was a lovely and hot weekend. Doug and Sharon Sandercott also made it up north for a "land rendezvous" . They now have two vessels, their Beneteau "About Time" and a houseboat that they purchased in George Town, Exuma. That sounds like twice the work to me but they are looking forward to cruising again this winter.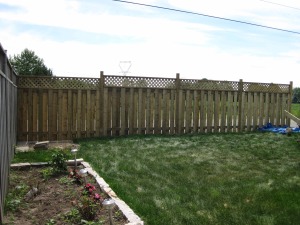 On our return from Bancroft, we picked up my mom once again and brought her down to Tillsonburg. She does love it down here. But the intense heat kept us mostly bottled up in the house, venturing out for aqua-size classes and to build the fence at Steve and Kath's. Yes, these crazy people built 100 feet of board fence during that hot spell! Murray and I tried to pick days that were under 30C and work in the shade where possible. But, the fence was done, except for the gate, by the time Steve and Kath came home.
The Ottawa contingent visited for 5 days in early August. They did some touring in London, visiting friends there and also Banting House, the home of one of the discoverers of insulin. The previous weekend had been spent at the Juvenile Diabetes Conference in Toronto. There Samantha saw lots of kids with insulin pumps similar to hers. They were encouraged to decorate them with sequins, paints etc. It was such fun to have Matthew and Samantha here! Steve and Kath arrived back to St Thomas just at the end of their visit but in time that we were all able to get together for one afternoon/evening.
The kitchen job has firmed up and we started tearing out the old cabinets after Labour Day. The new ones will be installed on September 12th and we want to be completely ready. The flooring needs to be patched under the cupboards ( we didn't remove the cupboards when we laid the hardwood ) and some wiring changed. Once the cabinets are in, the measurements and template will be taken for the quartz countertop. Then we must find the right tiles for the backsplash to complete the job. When there is time, we will have to read up on tile installation!
In the midst of all of this carry-on, we had work done on our ham radio, ordered a used ham radio from eBay ( and it didn't work! ) and ordered new taps and a garbage disposal unit for the kitchen. I have spent many hours on-line researching taps etc.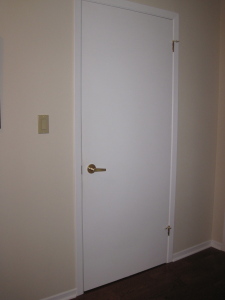 Since Murray got bored for a couple of minutes, he ordered trim for all of our interior flat-panel doors. He removes each door, sands it, installs the trim on both sides and then paints. I cannot believe the difference that it makes.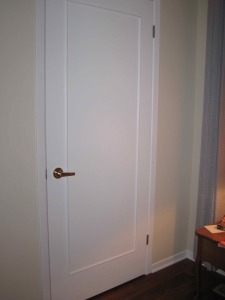 The Third Annual Edwin Street Party was held just before the end of August. Approximately 45 people attended and we had perfect weather for the event. The food was super and a real pot luck, although we contributed the burgers and the fixings. Quite a few people joined in on the dancing and I even led a line-dance troupe briefly.
Now the hurricane season has started with a blast. It actually starts on June 1st but there are seldom any storms until late August. For several days it appeared as if Irene would make landfall in northern Florida but she veered off, and headed towards North Carolina. What a mess resulted, with flooding in many of the coastal states and right up to Canada, affecting Quebec and the Maritime Provinces. For the next month or two, the first thing we check each morning is not our e-mail but rather, the hurricane site on NOAA. There is nothing further we can do to protect our boat but it just seems that we need to be aware of pending storms.
In less than 2 months, we will be back aboard! The time has flown by as usual. We need to check the lists, made before our departure from the boat, to make sure that all items have been ordered or repaired as necessary. This winter will be our fifteenth season of cruising! How long are we going to continue, you ask? As long as it is still fun.
And on that note, I will close for now. Hugs to all,
Murray & Heather
solidly aground