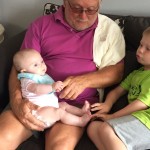 Just after spending Father's Day with Steve, Kath, James and Violet, we headed out in our Rialta for points east. We learned the trick to a speedy and trouble-free passage of Toronto – leave our area in the evening! That took us through Toronto and out the eastern side in good time. A WalMart made us welcome for our first night on the road. One more detour had to be made before we hit the road for Nova Scotia – a visit to Ottawa. There we managed to celebrate Matthew's Grade 6 graduation, Father's Day and my birthday all at once. But, after a couple of nights, we pulled ourselves away and headed south and east.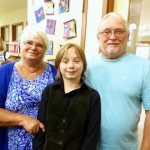 Approaching New Brunswick from the USA brought us near some good sailing friends in St Andrews by-the-Sea and we had to spend a couple of nights there to catch up on their adventures. Underway once again, we turned away from the main highway and travelled through Fundy National Park and the north shore of the Bay of Fundy. Our timing was perfect for a low tide visit to Hopewell Rocks and we marveled at the sculptured rock islands there. Murray walked the whole hike but I opted to ride the tram on the return to the parking lot.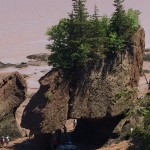 Eventually, we pulled ourselves away from the attractions of New Brunswick and headed into Nova Scotia. Of course, we drove the back roads, Hwy 6, along the coast, with a stop for shortbread in Pictou at Mrs MacGregor's Cafe. Delicious! Beautiful scenery and lovely little towns. But, Cape Breton was calling to us and we headed for Baddeck.
In Baddeck, we toured the Alexander Graham Bell National Historic Site and examined the many inventions Bell had been involved with during his lifetime. A Kitchenfest was scheduled for that evening at the Baddeck Legion and, for $10 each, we were treated to live music on guitar, keyboard and fiddle. One of the fiddle players was Mairi Rankin! Great evening of lively music. We spent the night in the Legion parking lot and visited the marina in the morning for laundry and showers.
Clean and sweet smelling once again, the road up into the hills of Cape Breton beckoned. Man, are they steep! The little Rialta was put to the test but managed to make it all the way around. That night we stopped in Inverness and found another Kitchenfest to enjoy. As the sun set into the Gulf of St Lawrence, we walked the boardwalk by the shore, and made plans for the next few days.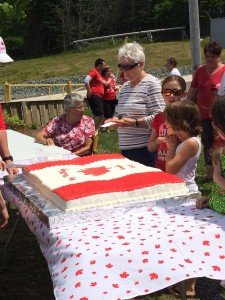 On Canada Day, we were visiting St Peter's, the lock into the Bras D'Or Lake and a small museum nearby when we were told about a party at the yacht club. All were invited for burgers, hot dogs, drinks and cake to celebrate Canada's birthday. What fun! And more live music.
Finally, it was time to head to Canso and Stanfest. The opening party was Thursday night and we planned to be there. So, from July 2nd through until midnight on July 5th, we enjoyed all the live music we could fit into our day! It was an awesome time! To save money, we had signed up as volunteers. That gave us free entry into the festival for the whole weekend. Our jobs were in traffic control and we worked for 8 hours on Friday. Then we were free to wander. The camping area was well organized and we had a great spot overlooking the whole place. But, it didn't take us long to figure out that we couldn't party with the young ones and in fact we were in bed before midnight every night. Too bad we hadn't attended this event twenty years ago!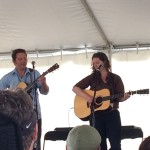 The line-up of artists was amazing and it was hard to pick and choose who to go to see. There were several large tents set up where afternoon concerts/workshops were held each day and a main stage event every evening where five or six artists entertained us all.
Next summer is the 20th anniversary of Stanfest and promises to be even bigger and better than ever.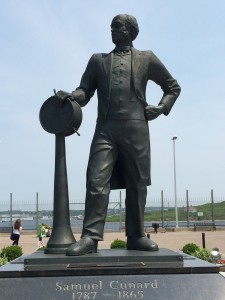 By now, George & Barb had made their way into Nova Scotia and we arranged to meet at a campground north of Halifax. There, we unhooked their truck from the trailer and used it to tour. Much easier than trying to take the Ri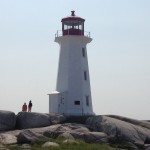 alta into downtown Halifax! The Museum of Immigration was well worth our visit. And the lovely walk along the harbourfront kept us hiking for miles. This was George and Barb's first trip to Nova Scotia thus a visit to Peggy's Cove was necessary. It was as beautiful as advertised but very crowded while we were there.
George had made contact with some of the Rand's in Nova Scotia and we headed to Kentville to meet with them. I needed another laundry visit and, while watching the clothes come clean, chatted with a couple involved in the same job. The upshot of my chattiness was an invitation to park on their lot overlooking the Bay of Fundy at Hall's Harbour.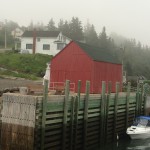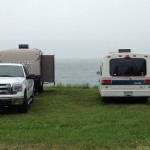 We stayed two nights in this beautiful spot! Our hosts even serenaded us on their bagpipes. Thank you Ian Webster!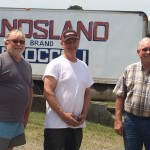 The Rand family at Randsland Farms Inc welcomed us and Marshall Rand shared much information on our shared genealogy. Then he very kindly took us on a tour of the farm and the area around. The Rands grow many acres of broccoli and supply Nova Scotia, New Brunswick and PEI as well as shipping some products to the USA. It was a great visit and we learned much about the Rand history in Nova Scotia.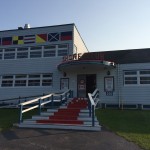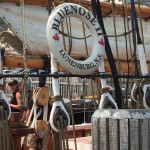 Leaving Hall's Harbour, we ventured south once again and visited Lunenburg, Mahone Bay and Chester. In Lunenburg, the Bluenose had just arrived at the dock but they were not allowing visitors as yet. But, it was wonderful to see that beautiful ship in the water. Lunenburg was much too busy with tourists and we enjoyed both Mahone Bay and Chester more. The drive along the coast was just gorgeous! The day was completed with an early lobster dinner at the Shore Club in Hubbard. It was some tired puppies who hauled ourselves back to our campground
The Rands who left Nova Scotia for Ontario had departed from Cornwallis. So, that was our next destination along with a stop at Annapolis Royal. Both lovely small coastal towns, with much history, and much quieter than the towns on the southern coast. Since we were heading in that direction, we opted to take the ferry from Digby to St John, NB. It was a very calm misty day and a lovely crossing.
Now, it was finally time to think about going back home. Toronto was in the midst of the Pan-Am games and traffic problems abounded. So… after some studying of maps and options, we decided to return through the US, driving south almost to Boston before turning to head to Buffalo. It worked well and traffic wasn't an issue.
It had been a very busy three weeks but we enjoyed all of it! Lots of things to see and music to enjoy plus good times with family members. What more could we ask for?
It was time to clean out the Rialta and get her ready for the next adventure. And catch up with all of the laundry!