Hello all in the great white north,
A few mornings ago, we made a radio call to a boat that had returned to Hog Cay from Cuba, desiring to get some information from him. Shortly thereafter, we received a radio call from a boat whose name we didn't recognize. Switching to another channel, Murray said "this is Windswept IV, go ahead". The call came back " Is this the Rands?". Murray looked at the microphone in surprise and answered in the affirmative. The response from the other vessel was " this is Jeff Witzak. I believe you know my father."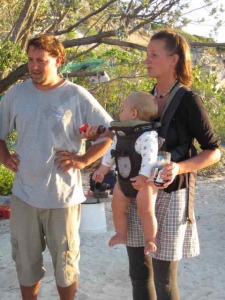 Before long, Jeff and Ava were sitting in our cockpit, along with their 8 month old son Keagan. Jeff works for the Canadian Coast Guard and, when Keagan was born, took parental leave. They used the time to travel to Florida, found and bought a 30 foot boat, did some repairs and started cruising the Keys. From Key West, they headed west to the Dry Tortugas and then on to Havana, Cuba. For the next six weeks, they traveled eastward along the north coast of Cuba ( that is against prevailing wind direction and the most difficult way to go ). In that 6 week period, they spent only $700, including entry fees, cruising permit, fuel, food and marina fees. Oh, also including rum!
Murray had worked with Jeff's father, Stan, at Clark Equipment and we had visited back and forth when all of the children were young. But, not having seen Jeff in the last 30 years, we would never have recognized him. He says that us and our adventures are the reason they are out here cruising. Wow! That blew us away.
So, today Murray is taking Jeff to snorkel for conch while I go over the Exuma charts with Ava. And maybe get a chance to cuddle Keagan for a bit, to keep from missing my grandkids quite so much.
The beach parties continue, almost daily. The sky is clear blue and the air temps in the high 70's. I must admit that I am not spending as much time in the water as I would like, due to the sharks in the neighbourhood. But we can dinghy to a beach and paddle around in the shallow water when it gets too hot.
A few boats in a nearby anchorage are holding the "Beach Junk Wars" tomorrow. With only scissors, a knife and saw from their boat, they must create a useful object using only beach debris. We may dinghy over to view the results of their days work.
The wind forecast seems to be favourable to cross to Puerto Vita, Cuba, near the middle of next week. We will keep you informed.
Until then, stay safe and healthy. Write when you have a moment in your busy lives.
Hugs
Heather & Murray