For almost a month now, we have been travelling around Florida in our Rialta. As we are cheap sailors, or should I say 'we were cheap sailors', we always look for the inexpensive places to stay. Mostly.
Our first stop was a resort near Sebastian and it wasn't inexpensive at approx. $165 US for three nights. But, two great sailing couples were staying there and we wanted to catch up with them. In the process, we learned that we are not happy parked cheek to jowl with other units even if the pool is lovely. It is just not worth it to us.
The second stop was in George & Nancy's front yard in Hobe Sound. We had a great visit with them as well as the couple staying on the dock. Their boat had been damaged in the derecho that hit the Bahamas Jan 6th, 2016 and it had taken until now to complete repairs. Although they wanted us to stay longer, after just three days we headed off again.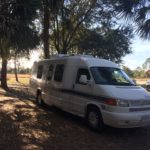 This time to a free site, the Horse Camp, in Dupuis Water Management Area Campground, near Lake Okeechobee. And, yes, there were horses. It was a nice spot without designated sites. You just picked out one of the scattered picnic tables and set up camp beside it. We were told there were hot showers but didn't utilize them. You are only allowed to stay here for two weeks at one time and then you must leave for a few days. But, it was a nice shaded campground and we will certainly go back again.
The time at Horse Camp was short because we had decided to go to the RV Super Show in Tampa. Arriving there just after lunch, we trekked in and out of many RV's, all out of our reach dollar-wise. But, we learned more about brands we liked and other ones we needed to eliminate from our search. We had purchased a camping pass and thus spent the night right there on the fair grounds. Friday morning, we entered the show again, this time concentrating on the buildings. There were lots of things for sale and also people trying to recruit RV'ers for temporary workers. Amazon is one of the biggest employers and also provides a campground for those who sign up. But, Canadians are not eligible.
A Wal-Mart, in Hudson, was our destination for the next night but I was quite nervous when we realized that several of the cars nearby had people living in them. As a result, I didn't sleep well that night. But, off we go again – to visit with more friends, John & Donna, in Palm Harbor. We spent the afternoon in the pool and danced the night away at the clubhouse. Although we had only planned for one night, they convinced us to stay longer and I managed to get my laundry done as well.
But as the saying goes, guests like fish, start to smell after three days. So off we went again – to another front yard. Don & Ann were borrowing a friend's house in Inverness and there was lots of room for the Rialta in the yard. Lots more to talk about and good meals to share. By now, we are starting to feel the effects of the cold bug shared with us in Hobe Sound.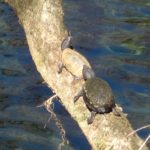 Time to retreat from friends and huddle down to get well. To that end, I made reservations at two State Parks – Rainbow Springs and Manatee Springs. I will have to admit that we really didn't get much out of the first one as we were feeling too bad to do much of anything. But, we did appreciate the electricity to stave off the cold nights. By the time we reached Manatee Springs, we were starting to come around and enjoyed a walk on the boardwalk by the river.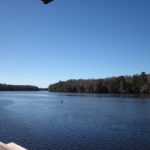 The drive to our next stop was a lovely one. I typically route us away from Interstates and onto back roads. These roads were lined with live oaks and horse farms. One ranch was having a jumping competition but we didn't pause.
Back to Wal-Mart, near the Villages, to visit with Pete & Lani who are having some medical challenges. We spent 4 nights in the Wal-Mart lot and our days with them. The four of us went to see the movie Hidden Figures and very much enjoyed it. We attended some musical entertainment in the town square and watched the Super Bowl at their home.
But, my RV searching was paying off. There was a Fleetwood Icon24A in Englewood, so off we went to check it out. While underway, I called about another that might work. The salesman, in North Ft Myers, said that it had been sold but the deal had fallen through. Well, the Fleetwood was a disappointment so we headed on further south and arrived at the dealer's lot at 4:30. By 5:15, we had made a deposit contingent on further investigation the following day.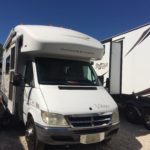 The bottom line – we are the new owners of a 2007 Winnebago View 23H. The deal will not be completed until near the end of February as our Canadian insurance company will only allow us 14 days to bring it back to Canada. And, it is still very cold up there. But, maybe by mid March it will be warmer.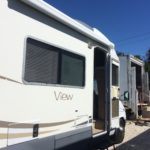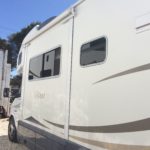 The Rialta is for sale, both in Canada and the US. Meanwhile, we are still travelling around the state and touching base with friends and former sailors. In Ft Myers, we met up with two such couples, Gordon & Lorrie as well as John & Luanne. It had been years since we had seen either couple. It was wonderful to reminisce and catch up on everyone lives and adventures.
Right now, we are camped in a Corp of Engineers Campground at the Ortona Lock, on the Okeechobee waterway. It is a lovely park right by the water.
Soon, we will go a little northward to another State Park and then stop in to check on Pete and Lani once more.
If we don't sell the Rialta here, we will have to drive both units north. That would be a pain but, if it must be done, then it will happen.
But that is the future and who really knows what might happen. Not me!
Hugs
Heather & Murray
CROW's
PS If anyone is interested in a driving holiday, the Rialta is available in Ft Myers ( or elsewhere as we do move around ! ) after Feb 28th for a short period. It would need to be back in Ontario within two weeks so we could get the license plates.