The last few months have been busy as usual. But, of course, we managed to have a little fun as well.
Murray worked at the farm, harvesting beans for George, during most of September. Whenever he had a rainy day and a break from the combine, he did little jobs on the RV and some not quite so little. While we were touring Ontario, we noted that one of the airbags ( sometimes called air springs ) had a hole and thus didn't inflate. It was a challenge to even find someone who could supply a replacement part. The RV dealer said "Winnebago didn't ever install those. It must have been an aftermarket addition." But, Murray doesn't give up. After much research and one wrong order, he removed one of the airbags so that we could get exact measurements. Now we could locate and order the correct parts. The part was actually available at a truck supply company in London! Murray installed the new air springs with little difficulty other than having to raise the RV and remove the dual tires. He also changed all of the fluids and installed a battery disconnect switch to prevent the batterie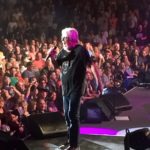 s going dead when the vehicle isn't in use due to constant parasitic loads.
We found time to travel to Rochester NY for a Bob Seger concert. It was awesome! My goodness, he can still rock the building! We were seated side stage and had a great view of him, even closer than those on the floor who paid much more.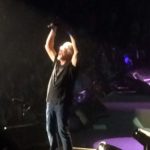 September also brought us a visit from our good friends, George & Nancy Marvin. As they live in Florida and spend the summer in Maine, we had never expected them to come to Ontario. But, they were on the way to pick up their new dog and their breeder had moved to Michigan. The straight line from Maine to Michigan passed through southern Ontario. We were thrilled! They arrived in time to join us for a dance at the HHRA clubhouse where they got to enjoy some music from the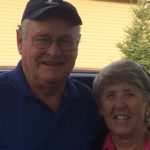 60's and meet many friends. The next day, we took them on a tour of the farm and our part of southern Ontario. But, they couldn't stay long as they wanted to meet Ellie, short for Eleuthera, their new springer spaniel. So, we waved goodbye after only two nights. They might not realize it but we will be sure to see them this winter! We have spent many a Christmas with them and hate to break a tradition.
The Car Rally was coming up in October and we were out driving the back roads as much as we could, setting up a new course and a myriad of questions. As in the last year, we also ran Rally 101 classes a couple of times on two Saturdays after coffee hour. The day of the Car Rally was gloomy and wet but the competitors were very enthusiastic. Most completed the course and we all joined together for a lovely catered meal.
The bean harvest finished up by mid October and then it was time for corn. Murray usually has weekends off as George's son works with him then. Not too long ago, the combine caught on fire! Murray couldn't see the fire in the engine from his position but noticed the engine speed slowing down. He stopped, stepped out onto the deck and saw flames shooting into the sky. He ducked back in the cab, shut the engine off and climbed down from the machine. Where was that darn fire extinguisher? Oh yah, up near the engine! Once that was retrieved, he directed the blast onto the engine as others arrived to assist. The fire was eventually out but the machine will require extensive repairs.
October also was the date for the Information Meeting here in Hickory Hills. That is when the Board of Directors presents to the residents the proposed budget for the coming year. It was my first time in the stage in front of the crowd and my first time typing the minutes. My gosh! There was a recording of the meeting and I typed for three days and 13 pages, transcribing it.
Halloween is low key in our neighbourhood, in fact we did not have one child come to the door. I had granola bars to hand out and was glad that we hadn't broke down and bought chocolate. If we had, I would have had to sacrifice myself so that Murray wouldn't eat too much of it. A tough job but one that I could have accomplished and had managed other years. Sadly, my expertise wasn't needed this year. Sigh.
Now, we are just a week and a bit before we head south. How do we plan to do that you ask? You sold the boat, remember! Yes, we did but we also bought a Winnebago View and intend to drive to Florida for a few months. Contrary to most RVers, we haven't booked months of stays here and there. I did book 4 days in a State Park where we will meet up with friends. But, other than that, we will play it by ear. Just like on a boat, moving here and there, and dropping anchor. I have found many free sites in the Panhandle and we will gravitate there in January. State Parks also often have a day or two available during the week and we can do laundry there. There are also some Corp of Engineers Parks in the Panhandle area that we will try to visit. But, there are no definite plans – just the overall idea of staying warm.
Right now, the lists seem to get longer, not shorter. I tick off two items but add five more. We will bring the RV home from the farm on Sunday and I will get to work on Monday, cleaning the upholstery. Then, Murray should be done farm work on Tuesday and the real work will begin, carrying things to the motorhome and stowing them somewhere. Hopefully, somewhere where we can find them again! There was a phase we used in boating – LOB or Lost On Board. I think that the same phrase will hold true for the motorhome.
But, the Christmas cards and letters are sent, the freezer is almost empty, the bills are paid and our US dollars retrieved. the frig is washed out and the clothes are on a list but no need to pack as we just carry them out to the motorhome. I still have some baking to do and, if I had eggs, I would have done it today. Oh well, tomorrow maybe.
Hugs to all,
Murray & Heather
Hard Aground & CROWS ( Cruisers Rolling On Wheels )