Problems started early this morning. As our campsite was full service, we had a sewer access point right beside the motorhome. After travelling for 6 days and having showers, it was time to dump the tanks. So, Murray started that job while I readied the interior. I heard the macerator start but then abruptly stop.
For those that are not familiar with the term macerator, it is a grinder type of thing that makes poop into poop soup. Then it is easier to dump out through the hose, in theory. But, ours quit. Murray checks the fuses and finds one blown. Fuse changed and all is good again. Tanks are emptied and fresh water filled once more. We are off!
If you have never been to Canso NS, the roads to get there are hilly, twisty and not in great shape. They would be awesome to drive in a sports car but not quite so awesome in this lumbering beast of ours. To add to the thrill, the wind was trying to throw us off the road as well. But, we arrived at the campground in one piece.
The check-in kiosk is at the tiptop of the highest hill in Canso. But, no one is there. We make our way down the series of hills to Area 2. Now to find our spot. Campsites are marked with stakes with two numbers on the card attached. We are in site 2108. I think I found it but it turns out to be 2103. Just a bit further. Murray walks down the track, checking numbers just as the heavens open up! Pouring rain again. There is only one other unit currently in this field so we have lots of space to make a big circle and get into position.
We are here! It is raining but I had planned for chilli tonight so no need to barbeque. It is time to mix a drink and relax. No music is scheduled until Thursday evening when Alan Doyle and the Beautiful Beautiful Band are the headliners. We can explore Canso tomorrow.
And we did. We offloaded the little car and checked out the village. Stopped at the grocery, supported a fundraiser for the medical clinic by buying burgers for lunch, had ice cream at a shop that just opened today and found another new shop selling seafood. When we returned to the campground, the check-in kiosk was open and we got signed in plus tickets for Thursday's show which was an additional fee. Wow! Lots more units have checked in while we have been away!
We took a golf cart shuttle to the festival site, bringing my walker and a chair for Murray. Quote The Raven played first, followed by Rum Ragged. They were both excellent Newfoundland bands. Alan Doyle put on a great show and it was the first time we had seen him in concert.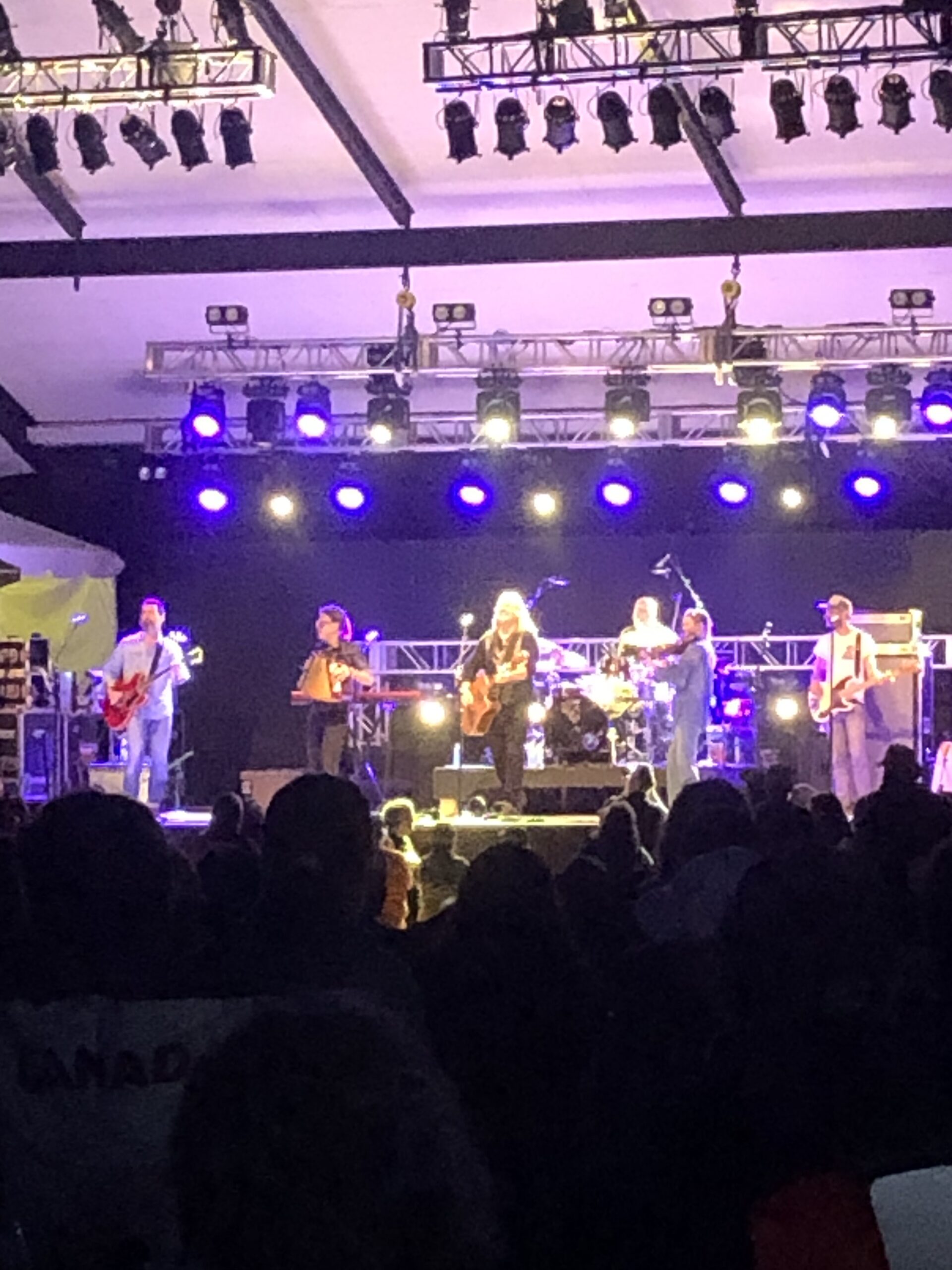 The shuttle back to the campground scared us a little. He had no lights. When he took off, he said, " I can see the people but cannot see the potholes. So hang on as it may be rough." But, I don't know how he could even see the people. Few had flashlights and the night was very dark with little moonlight. But, we did arrive safely back at our campsite without hitting anyone.
That experience convinced us to take the little car to the festival grounds and park, using my Accessible pass. And that is what we did from then on.
The highlights: Saturday's tribute to Gordon Lightfoot: Sunday's Singing Stan. New to us groups/singers that we enjoyed: Lisa Richard ( what a voice! );The Hello Darlins; Joe H. Henry; Carl Bond; Susan O'Neill; Steve Macintyre. Old friends enjoyed again: JP Cormier: Dave Gunning; Matthew Byrne. 

The rain continued to plague the concert schedule but most events were moved into the arena. It quickly became crowded and very warm.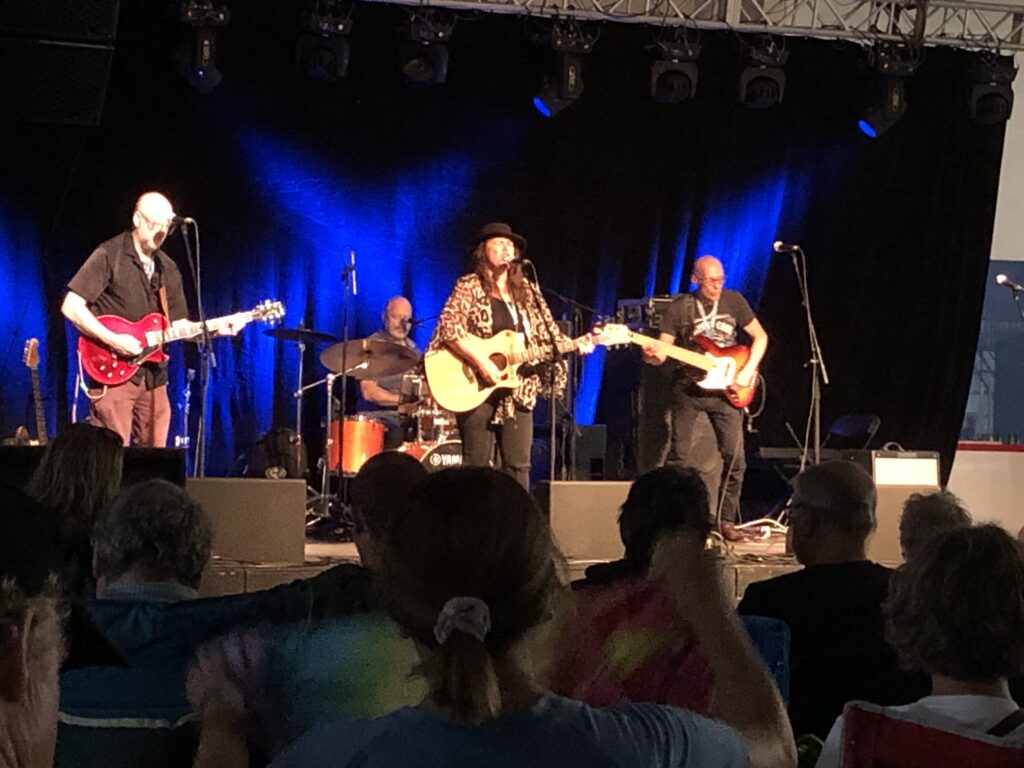 Canso was luckier than many places in Nova Scotia as the rain was not as heavy as forecast. Flooding has taken place in Windsor, Halifax and Lunenburg with 4 persons missing. Many roads are closed and areas evacuated. Our plans had been to travel to Lunenburg area but don't think that we should go there right now.
Monday finds us underway again, headed to Pictou area. There, of course, is a lot of road construction happening. In a tight spot, we hit a traffic cone and there was two tremendous crashes. Once we had a chance, we stopped to check the damage. The funny thing was that it hit the step and bent it. The step had given us trouble when we were departing Canso and this crash seems to have "fixed" it. Huh, lucky us?
I found a campground for two days. We can do laundry, re-stock the larder and explore Pictou. We got checked in, plugged in and turned on the AC. Nothing happens! Except some colourful language from Murray. It is now 92F in the coach. Time to take the little car into town.
Books are out again, AC cover down, fuses checked. WTF! Murray had pulled a wire to stop the furnace from coming on randomly. No idea why it was doing that but we did not need the furnace currently. When he re-installed this wire, the fan worked on AC unit but still no cooling. What could it be? He checked the thermostat and found dead batteries. Replaced those and we have cool air blowing down!
There is never a dull moment here. But, today we are off again. This time to a Boondockers Welcome site at a horse farm. We have two nights booked there and do not expect that we will have power. It will be very hot but there are beaches nearby. Perhaps we will swim.
Time to get the maps out and plan our next stops. Do we go to PEI now or later? Friends are arriving in Cape Breton soon. Should we head that way? Decisions, decisions. Stay tuned as I am sure that something else is sure to break.
That is Life on the Road,
Heather