On August 3rd, we arose at 6:30! I had done that for many years aboard W4 as I listened to and wrote down the weather information given on the Ham radio by Chris Parker. But, I was definitely out of practice. We were booked on the 8:30 ferry and they wanted us there 40 minutes in advance. So….we got up at 6:30.
The crossing was calm and quick. Just 75 minutes after departure, we were unloading in Nova Scotia. As it was so early, we decided to push ahead and go all the way to Gabarus in Cape Breton. First challenge was a stalled car on the two lane Canso Causeway. In our lane! So, cars in our lane had to rely on the opposing traffic stopping so that our lane could progress. But, it is Canada and people were being polite. So, we were delayed but not completely stopped.
On we go! We are following Highway 104 at first. But, in the village of St Peter's, we change to Route 247. It is a narrow, twisty road marked as the Fleur de Lis Trail. At some point, we went straight ahead when we should have gone to the left. The road got worse and worse. I checked my phone to confirm our location and No Service! Not even one bar! Sh*t. Murray was occupied trying to dodge the many potholes while I tried to figure out what went wrong. The road was too narrow to turn around so we pressed on. Eventually, the gravel logging road we were on joined back up with Route 247 and that road eventually brought us to another village. Yay, we know where we are once more. It is still many more miles to Gararus but we finally arrived, covered with dust, at the home of friends, Meindert and Gail Wolff. We stayed there for three quiet nights, enjoyed the views of the water and the friendly residents.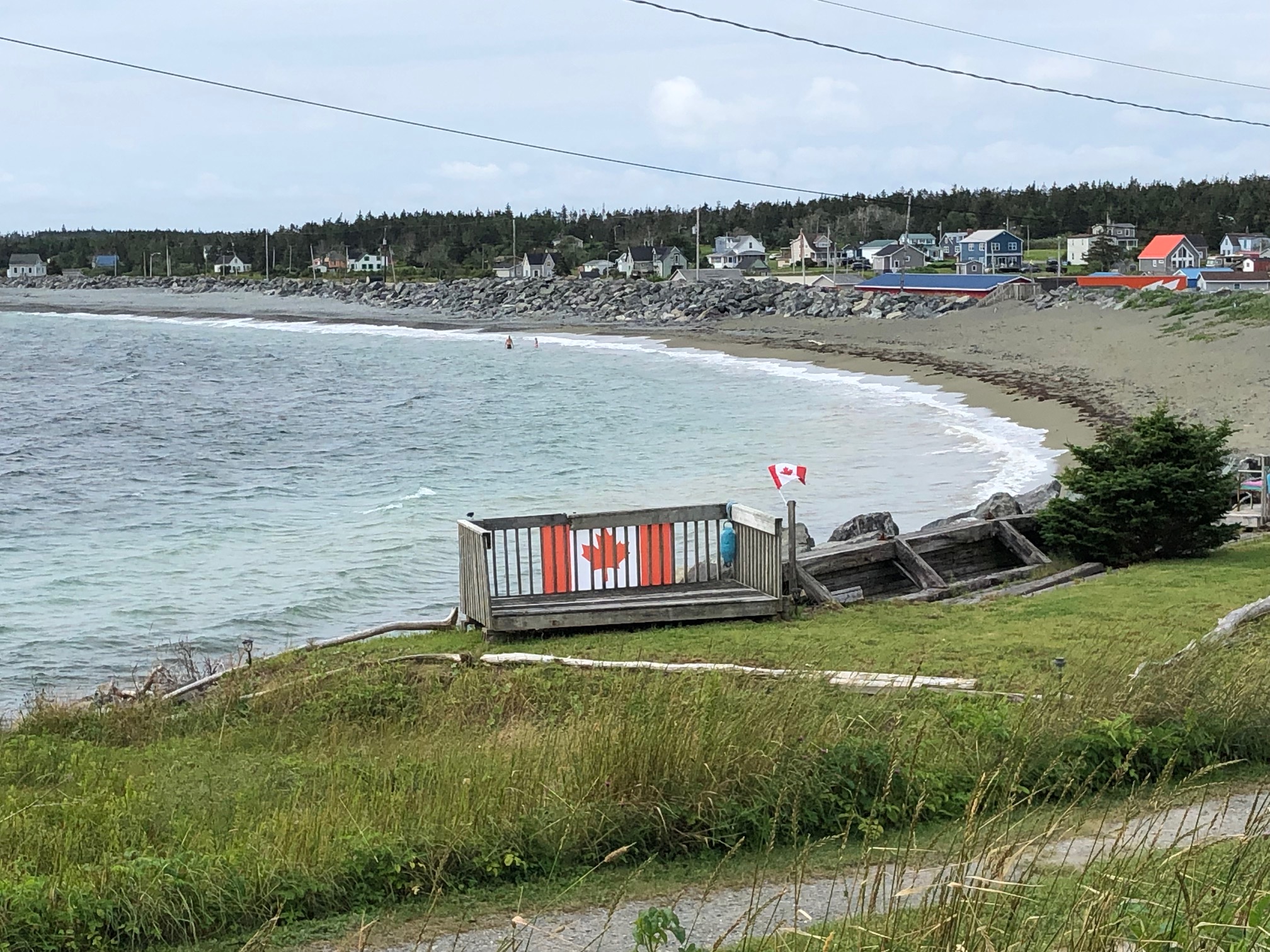 Murray even got to go out on a local boat and did some jigging for mackerel. Saturday at 2 pm in the Community Centre it was time for Tea and Cookies. Local residents displayed and sold their handicrafts or other items while everyone enjoys the baked goods on offer. Of course, we had to attend and even made a couple of purchases.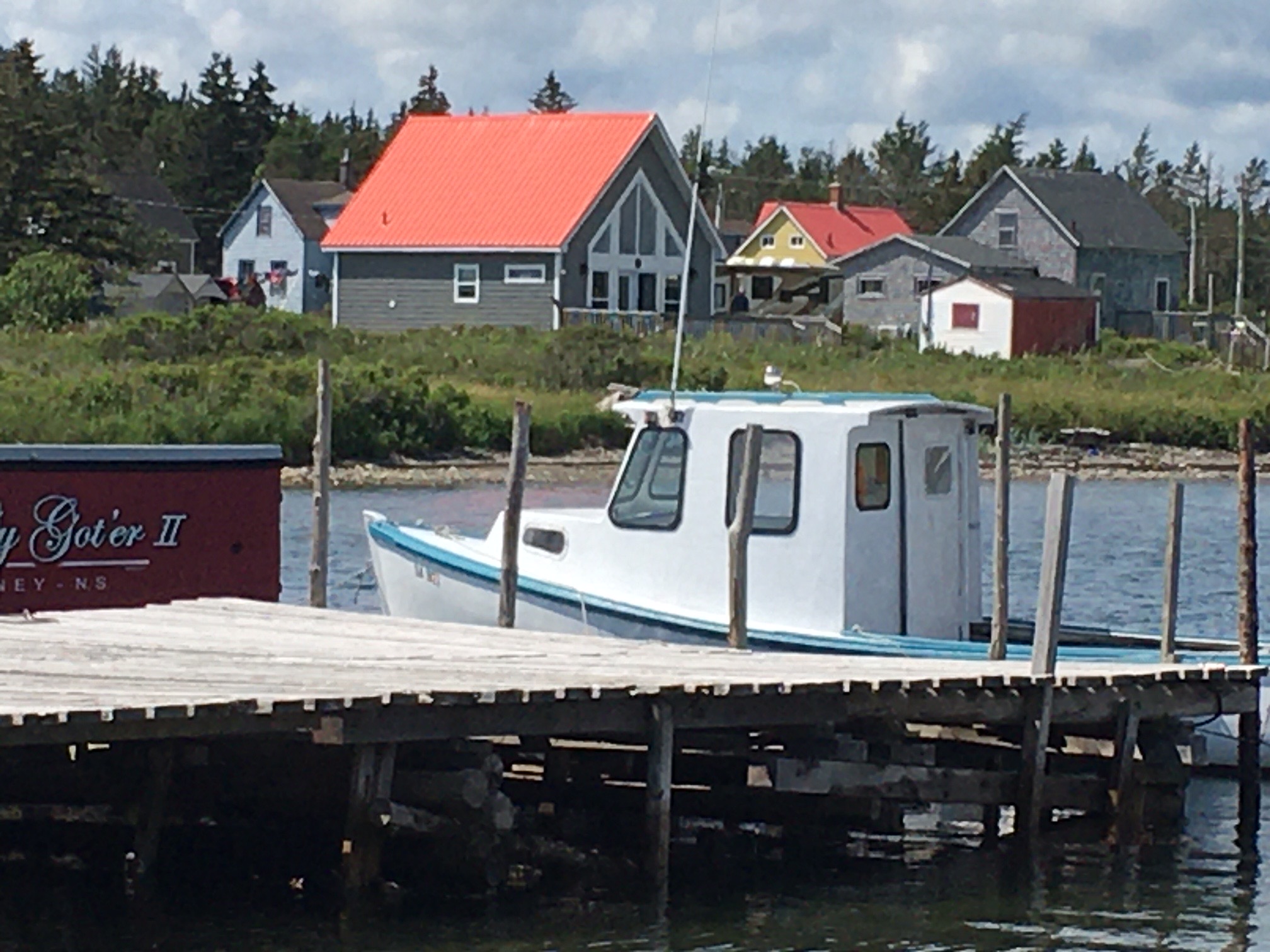 But, it was time to pull ourselves away from this lovely spot. We broke camp Sunday morning and headed to a Boondockers Welcome location outside of North Sydney. We planned to leave the motorhome there while we explored the Cape Breton Trail in the Smart car. When we arrived at the address, we soon figured out that it was just not going to work for us. Supposedly, there was room for a 45 ft motorhome and we are smaller than that. It was possible for us to park, on quite a slant, but not possible to get the car unloaded. The decision was made to press on. In fact, we pressed on almost all the way to New Brunswick! That night, we stayed in a Walmart in Amherst NS, parked right beside a No Overnight Parking sign. But, we had asked at Customer Service and they had said, " Sure, no troubles at all!" There were at least ten or twelve RV's there overnight.
Another early morning got us on the road by 8 am. On the travel through New Brunswick, a golden eagle landed on a fence post by the roadside! The sunshine gleamed off of his golden head and there was no doubt in my mind as to what I had been privileged to see. With the time change, we arrived in Rivière de Loup at about 3 pm. We parked in a Walmart lot with about 50 other RV of all sizes and shapes. They just kept coming!
It poured rain all night long but we were dry and warm. I tried to find a gas station for Mur close to Walmart but it ended with us driving through the narrow streets all over the town. Several gas stations were found but none that we could enter and exit with the motorhome. Finally, we gave up and headed for the highway with the plan to stop later.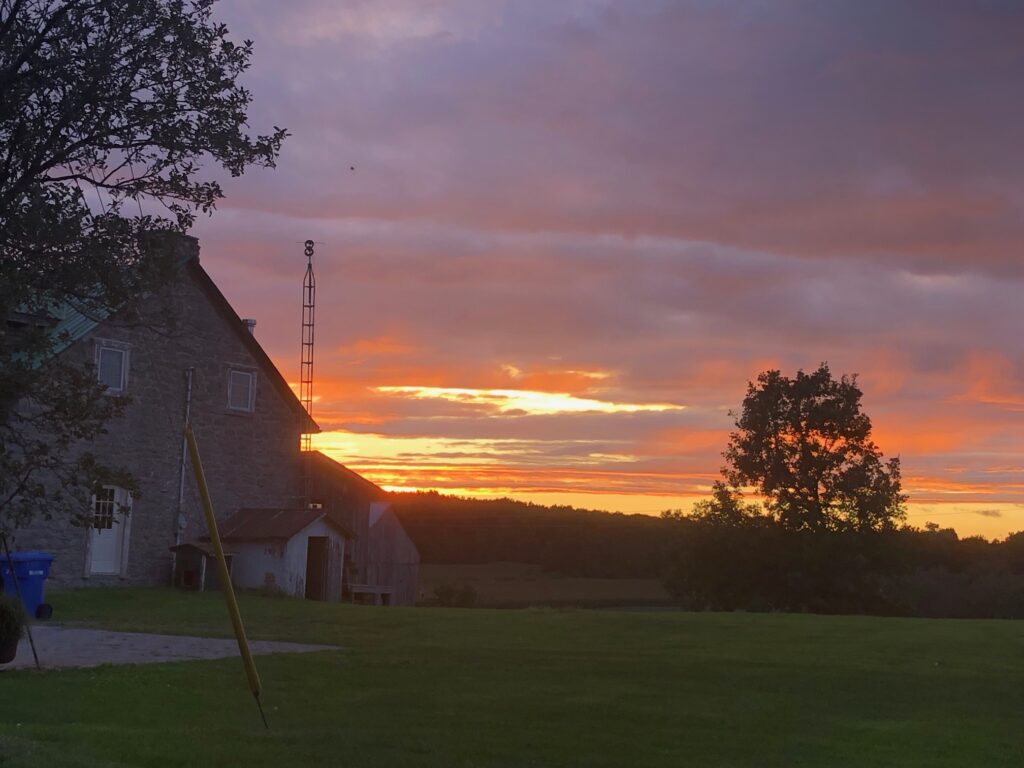 Our Boondockers Welcome spot for the night was a lovely farm near St-Télesphore QC. Gary, a huge Great Pyrenees, made us very welcome as long as his wagging tail didn't knock you over. He was a big beautiful dog! His owner Glen helped us get situated on his grass. Another RV with a family aboard joined us as well.
I had called our son and indicated plans to stop in Kanata for a visit as we were sort of nearby. He planned to take Thursday off to spend together. So, I got busy and found another Boondockers Welcome site for two days. It was at a beautiful home in Manotick, a suburb of Ottawa, and just about 30 minutes from our family's home. It was a great visit and worked out well for everyone.
On Friday, we headed out once more, making yet another detour to stop in Orillia to visit my Aunt Barb. After a great but short visit, off we go, trying to beat the Friday night traffic. A quiet night was spent at Georgian Downs, a racetrack and casino with no racing on Friday nights.
Saturday got us home after dropping the motorhome at the farm. We took time to bring some things with us but had to leave everything in the fridge until the next day as we didn't have enough cooler bags with us.
Our 30 day adventure had covered 3271 miles or 5200 km. Only 5 nights had been spent in campgrounds. We enjoyed some live music, time with family and friends and got to see more of our beautiful country.
It is time to do laundry, catch up with the mail, harvest vegetables from Murray's overgrown garden and resume normal life. At least for a couple of weeks until it is time to buckle up for another adventure.
That too is Life on the Road
Heather & Murray