Once the latest update was posted to the website, I spread the map of PEI on my lap and we set off. Our site for the night was at another brewery, Moth Lane Brewing. It's advertising mentions that it is the only brewery with a water view. And we were to stay the night there.
The roads got smaller and narrower the closer we got to our destination. A sign on the last road said " No Exit". I hope we are going the right way as it isn't easy to turn this beast around. We arrive and pull into the parking lot and head inside to check in. There we are told that we cannot park where we are but need to move into the empty grass lot next door. Somehow, Murray manages to back up the motorhome with the car and trailer still attached. Soon, we are settled into our chosen spot with a water view. There is a lovely cool breeze as well.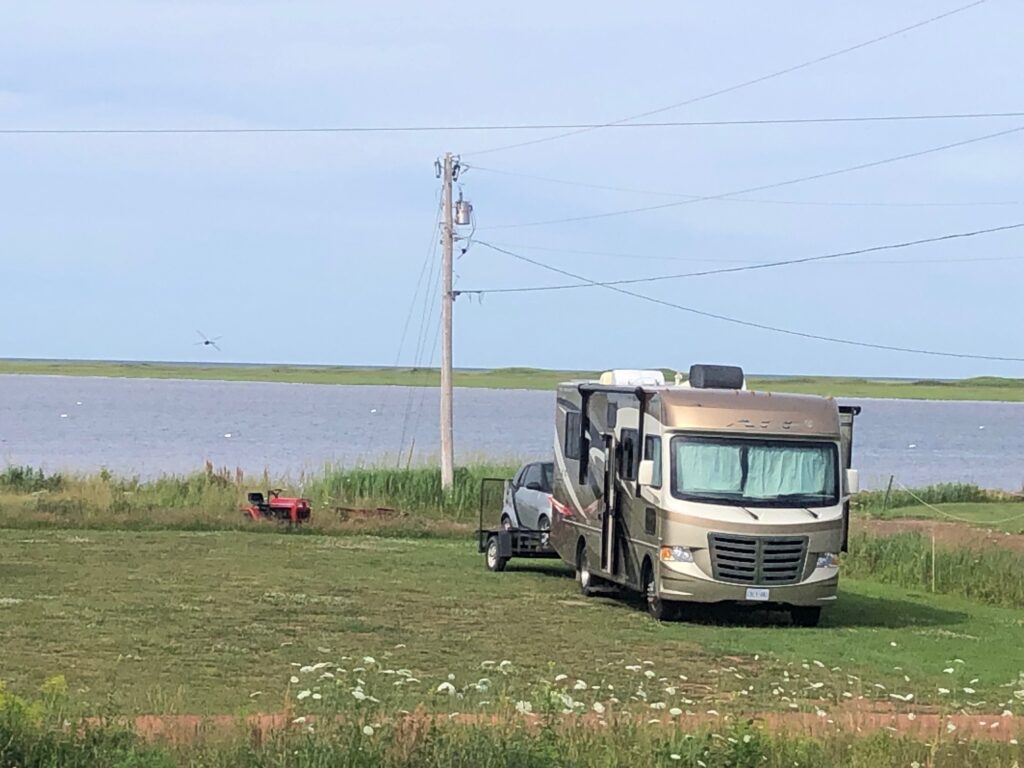 We offloaded the car and drove to Tyne Valley to check out the Oyster Festival, only to find out that it happens next week. Oh well, a nice drive through beautiful country.
Back at the brewery, some other RV's have joined us. My high school French is used once more to speak to our neighbours. We enjoy a couple of drinks and dinner at the brewery while watching dancing dragonflies by the hundreds.
The next morning finds us underway once more, heading towards Breadalbane and our Boondockers Welcome hosts for the next two days. Deana and Frank make us very welcome and help us get set up beside their garage. The car is offloaded once more and we head into Charlottetown for dinner with friends from Hickory Hills. Roger and Alice Hogan make us very welcome and give us a tour of their city, while my laundry finishes in their machines. A table is set up on their patio where we enjoy a wonderful lobster dinner. By the time we head out, the sun is setting. Oops, that was a big mistake! The road signs are very small and hard to read with the sun shining in our eyes. And I have no data left on my phone! We miss our turn but, some miles later, find another highway that will get us there. Whew! Later in the trip, I mentioned something about travelling after dark and the woman at the tourist desk said, " Oh no, you don't want to be doing that! The road signs are too small and you will get lost!"
In the lovely morning light, we head out on a road trip. First to Kensington, where our host Deana works in an art gallery. Unfortunately, it was closed that morning. But, we did enjoy the Artisans Shop next door. Next stop was a local quilt shop,Sew Blessed. I restrained myself and just purchased a panel to make a bag. I can always use another bag. Cavendish was next on the list and we spent several hours strolling the boardwalk and shopping the little stores. Fish and chips was on the menu for lunch before we headed to North Rustico. Lots of boats and water to entertain us. But, the plan to visit the All-You-Can-Eat seafood buffet had to be abandoned as we were too full yet from lunch. Big mistake on our part! But, we did find a shop selling seafood and Murray bought some mussels, which he later said were the largest ones he had ever eaten. Another thing that we noticed was lots and lots of potato fields all in bloom. Quite a pretty sight!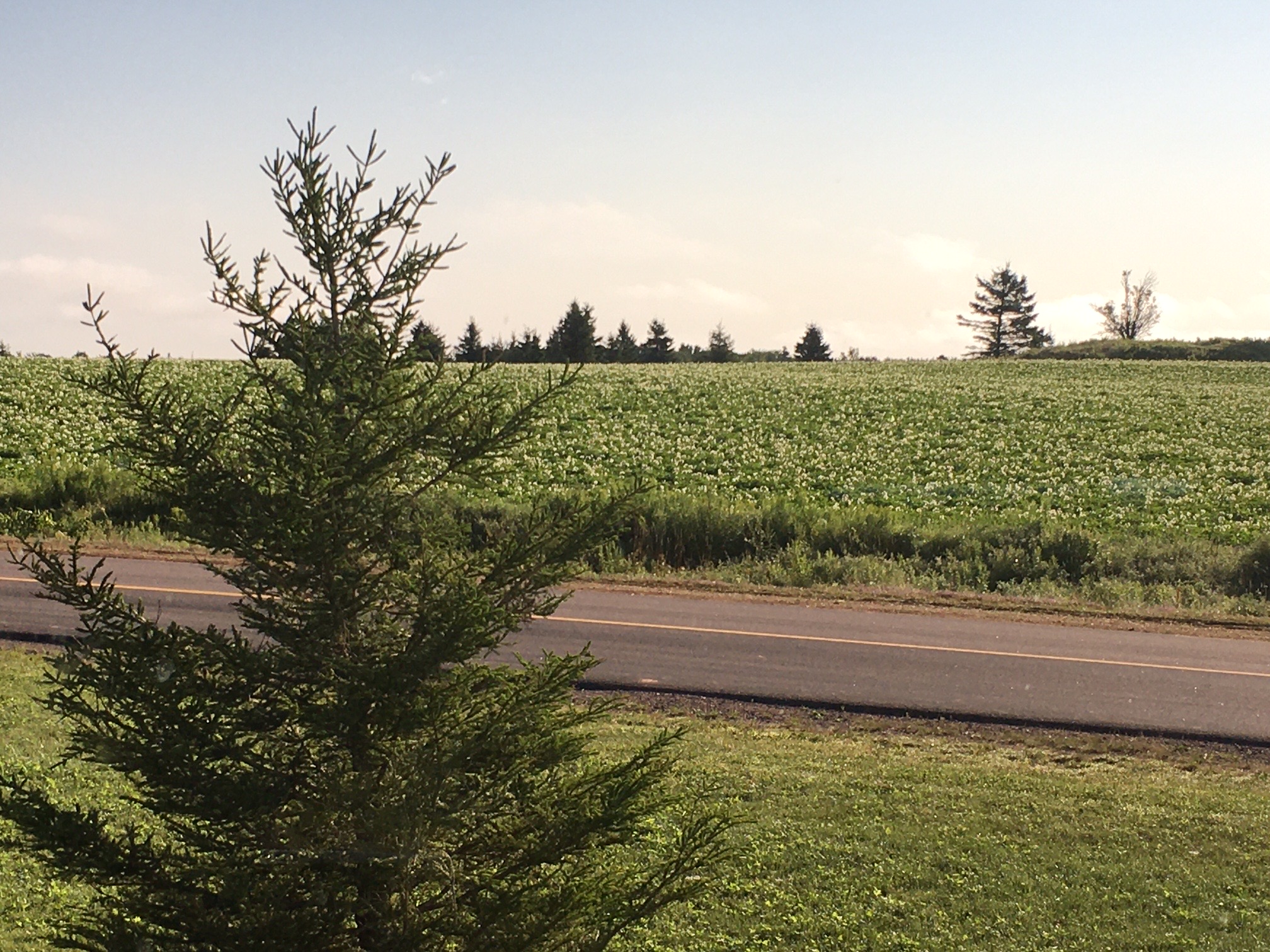 It is now August 1st and I have data again! I never actually was without data but would be charged a horrendous overage if I used much. I had tried to upgrade to Unlimited until we got home but was told that 15G was the maximum data that they offered.
We said our goodbyes to Deana and Frank and headed out once more. This time to Northumberland Provincial Park where we will stay for two nights. On our drive, we notice the vast number of downed trees in the forested areas. It looked as though a giant, playing with Pick-Up Stix, had thrown them down in a fit of pique. Huge trees were lying in crisscross piles, some broken off and some tipped over. Murray explained how dangerous it was to try to cut these trees up. The tree can be bent and under stress and when cut, can spring up into the cutter or the saw. Either possibility can cause serious injury.
We arrived at the park, checked in and found our site. At least, we thought so. More about that later. It was a full service site and right on the water. Again we had a lovely view.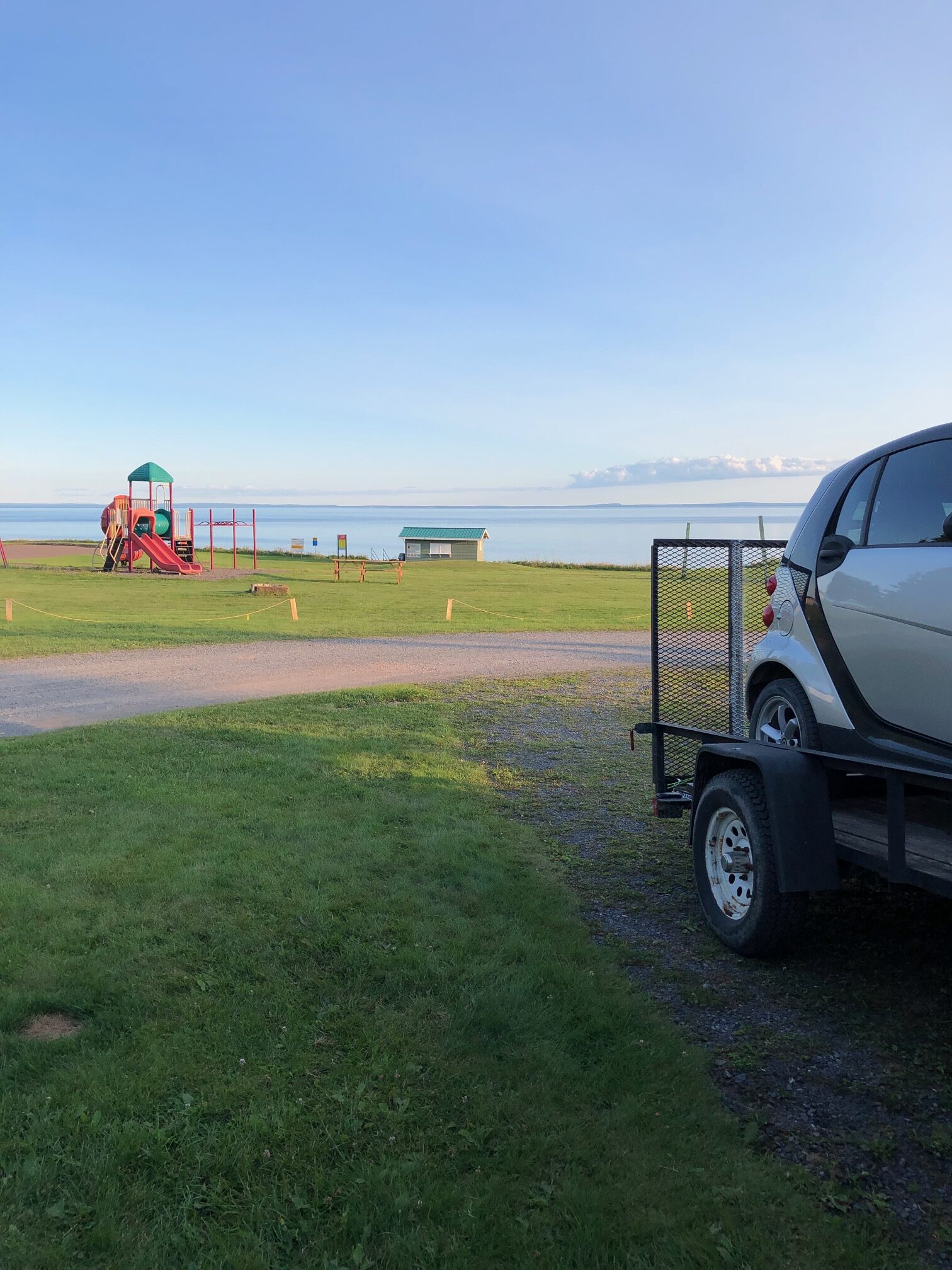 Offloading the car, we set out to explore. Ohh, a winery! Time for a tasting. We took the wines outside to a picnic table where we sat, sipped and listened to the birds. Nice place but we didn't care for the wines enough to buy some to drink later. Continuing our exploration, we passed Murray Harbour, Murray River and note several other Murray things on the map.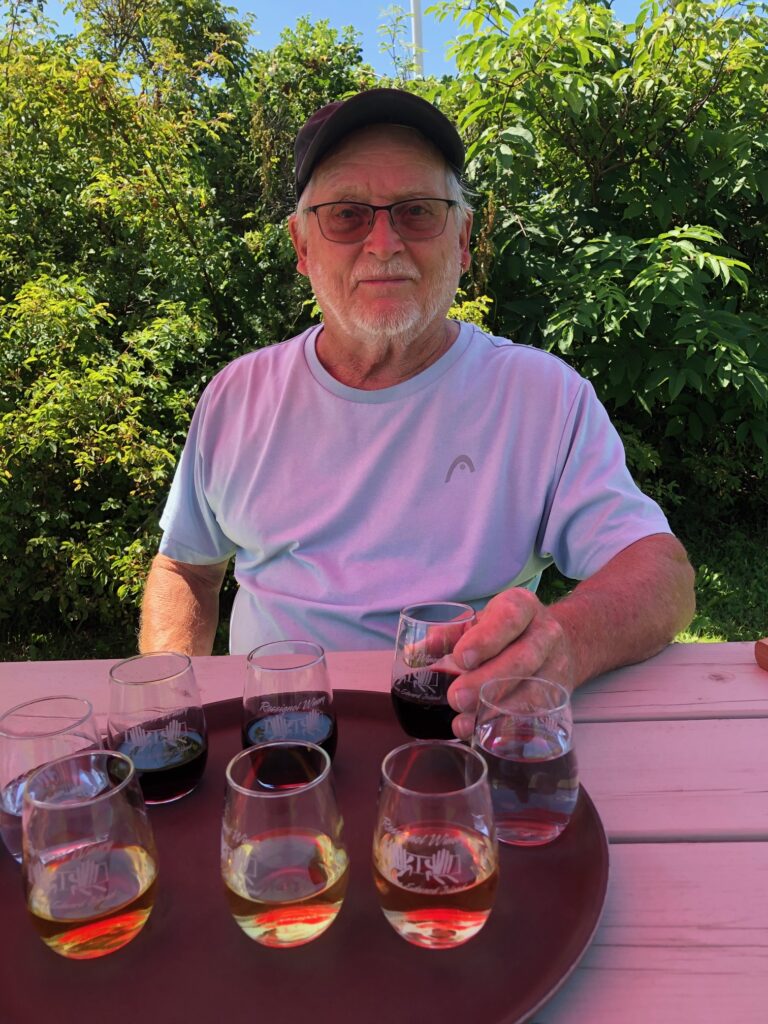 We were just pouring cocktails when we heard "Hello, hello! " It turned out that we were in the wrong campsite and the persons who were supposed to be there had arrived. An agreement was made that they would take the one that we were supposed to be in, just two sites over, and we would move in the morning. This family of four were from Switzerland and were driving a rental RV that they had picked up in Quebec and needed to return to Halifax in another week.
The next day, we headed to Montague and Georgetown. Both lovely towns on the water. Murray found a shop, Maritime Madness, making and selling hot sauces and they offered a tasting bar. Several of those sauces joined our larder. Montague had a great waterfront park with an Artisan shop and a restaurant. There were many lovey things in the Artisan shop but I managed to restrain myself. We did enjoy another lunch out at a brewery.
On the way back to the campsite, we decided to checkout the ferry crossing area and the lighthouse. When we parked at the lighthouse, the family parked beside us were returning to the car. The father was wearing a t-shirt that said Kawartha Dairy. Murray said " You must be from Ontario." The guy said, "Yes, actually from near Guelph." I said, " We used to live near there in Fergus and Elora." He said, "Well, actually I live in Bellwood." Upon further discussion, young man mentioned that he made cheese for local dairy farmers. Murray asked if he knew Shep from Gunn's' Hill Cheese. That remark led to finding out that this young man had visited Curries many times. It turns out that Art Dale, whose farm was adjacent to Murray's fathers farm, was this guy's grandfather. What a small world! All because of a comment on a t-shirt.
Tomorrow we will take the 8:30 ferry back to Nova Scotia and need to be there by 7:50. So, early to bed it is tonight. Not that that is much different from the usual. We go to bed with our books and, just a few minutes later, Murray is asleep. Same thing used to happen aboard the boat. No TV, few DVD's, it is dark – okay, may as well sleep. Easier to join him. Night all!
That is Life on the Road,
Murray and Heather