As per usual, time has flown by since I last wrote. But, in my defense, we have been very busy.
At our community Annual General Meeting on May 17, I, Heather, was elected to the Board of Directors. Since that time, there have been four Board meetings and one Social Committee meeting ( I am the Board representative to the Social Committee ). Plus, as secretary, I need to take and type the minutes of all of these meetings.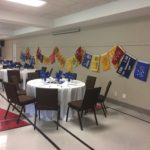 Also in May on the long weekend, we celebrated our 50th wedding anniversary by hosting a party. About 75 people travelled from far and wide to come and celebrate with us. We are so blessed with such good friends. And, I cannot leave out the most important guests, our family. All of our sons' families attended, even 2 year old Violet. In fact, she stole the show!
Jeremy, Cynthia, Matthew and Samantha came down from Ottawa on Friday and spent the weekend. They were a huge help with decorating and greeting the guests. Steve, Kath, James and Violet came as early as they could, after Violet's nap. She certainly needed that nap, with the energy she expending dancing with the DJ's lights later. We were also blessed to have my sister and Murray's brother and sister in attendance, along with their spouses. In fact, I had three out of four of my bridesmaids there! My sister, Karyn Gilchrist, Murray's sister, Susan Learn, and my cousin Susan Smith. It was a great evening!
As if we didn't have enough stress that weekend, we decided to host a brunch for the out-of-town guests on the Sunday. That turned out to be just super with much more time to visit with our friends. I had done as much of the food preparations in advance as I possibly could. Our neighbour, Mary Overland, prepared a couple of dozen fresh muffins and Barb Rand had made a hash brown casserole. There never was a lack of food!
Later that day, Steve, Kath, James and Violet came over to visit again and to spend some time with Jeremy's family. The kids had a great time together!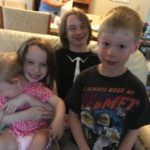 June was quieter than May but we still had to find time for celebrations – my birthday and Father's Day.
Murray finished helping with the planting at George's farm in early June and then was shanghaied for jobs for neighbours. One big job kept him busy for most of a week, replacing sinks and taps for a neighbour. The aqua-size in the pool also started in early June and I try to go most days. And, on the hot afternoons, both of us go to the pool for an hour or so, to cool down.
A few weeks ago, I took another quilting class and will be working on that quilt for the foreseeable future. It is a queen size, blue and white in colour, in the pattern of Hugs and Kisses.
Now we are almost into July and Canada is celebrating 150 years! Yay us! We have opted to skip most of the big celebrations and spend the weekend in our motorhome, camped at the farm. You see, we are still not allowed to drive it. And yes – it is getting frustrating. We thought if we spend some time enjoying it, we will again remember why we love it and why we bought it. Fingers are crossed that the recall can be resolved soon. But, we are afraid to make any plans for the coming months as we really don't have any idea when that might happen.
But, that too is life on the hard.
Hugs
Heather & Murray